When we aim to persuade someone, our adventure begins with our idea which needs to go through; change the other person's mind and become reality. If it doesn't, then the values dwelling in it die out over time.
The important aspect of Persuasion deals with emotions. The drive of decision-making in a person goes hand in hand with the emotions and experiences he feels for the idea. I will tell you an interesting fact, If your brain has gone through any kind of traumatic experience, you will have difficulties in making decisions at certain points. Terrible encounters also create memories, not just any memory, memories with strong emotional forces. The emotions revive the memories from time to time and that's what hinders decision making. For example, A person who had the trauma of getting caught in an accident will hesitate every time to cross the rush highways.
What makes your persuasion skills more effective? How can I possibly change people's mind? The art of persuasion has evolved over years. What today's change agents, coaches, speakers and leaders use is the Art of Emotional Storytelling and Visual Thinking.
A Story, Storytelling, and Storyteller
A story is narrative not rhetoric. An embodiment of events, characters, emotions that are destined to be narrated by a Storyteller. Sometimes true, sometimes fictitious. Sometimes like a poem. Sometimes like a novel. Designed to interest, amuse, instruct and heal.
Storytelling is the ability to depict the character's account of adventures. It's not just a telling -- but expressing in such a manner that the listeners experience and gain something from the stories. That "Something" is a connection. The connection of listener with the story and with the teller. How does that story resonate with her? What does it contribute to her life?
"A story needs loyal listeners as much as it needs a teller."
When a person makes a story, he does it for himself first. He imagines the story in a unique way that sets well with his heart. Then he imagines the past, the present, and the future. When he completes the process, the one he tells his story first is himself again. Then he recreates that narrative description for others to hear. Because he wants his story to be well remembered, to have sympathized, to be connected. This wish and urge can do any miracle because that's what a Storyteller is.
What is Visual Thinking?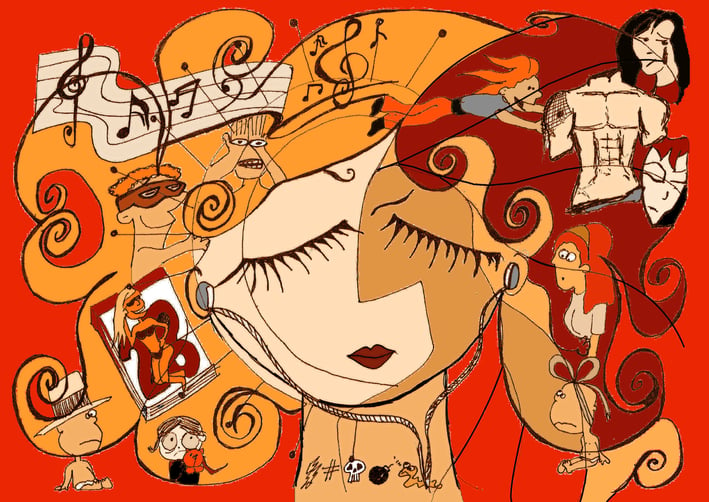 Art courtesy hopejoup
When it comes to the word "Visual", the first thing that strikes our mind is seeing. Let me remind you again, Visual thinking is much more than just seeing with eyes or feeling through any other sensory organ.
I will give you the summary of Story making and Visual Thinking (P.S. It would take me another blog to write the explanation and stages to develop Visual Thinking). Each and every day we get exposed to billion bits of information by seeing, feeling, and hearing. Among those, a tiny bit of information is accepted by our conscious. That means we become aware of those small amount things. It's unfortunate but that's the amount of feed we give our subconscious to devise ideas and stories. But Visual thinking is a practice to realize about the missing (enormous) data and use it for a better purpose.
To know more on Conscious and Subconscious READ,
So as I said, the power of Storytelling and Visual thinking have been the necessary standpoints for many leaders and Change agents. Over the years, they have learned that a beautiful story can transform any discouraging situation into a startling victory. Their ability to articulate their own stories and the stories of the organization are the important factors of Enterprise development.
Let's discuss the steps to activate such Powerful skills of Persuasion:
Step 1.
Realizing the story idea and making it grow inside you. Unless until you get the full awareness of your story, you can't articulate it. Likewise, unless you realize your product is the hidden treasure and your idea to develop is the map, you can't convince others. This is where Visual thinking comes! Let your story grow by creating, experimenting, imagining and remembering. And sometimes by listening to others.
Step 2.
Convincing a stressed group of people is never easy. On top to that, if you try to advise them, obviously they would be annoyed. So, you have to consider the psychological aspect of your listeners. Always remember, your stories are the creative ways to inspire and encourage, to give comfort, to protect, to heal and to give a new hope. These are the things that not only your story demands but listeners demand from you too.
A listener enters into your storytelling domain with a psychology of getting hope, if you are unable to understand that then you need lot more time to call yourself a storyteller.
Step 3.
After all the awareness delivery, now it's the time to be objective (i.e. know what you want to convey). When you are set to persuade someone, you should convey the message with the roles, responsibilities, and benefits. Such as, What are we going to do? What will happen after doing it? What's your role? What's his/her role? What will we be able to see in a distant future because of this?
Step 4.
Passion tells the best story. People love engaging leaders with a passion because they see him as a hero who is willing to go extents to turn his passion into reality. Convey your passion (with right examples) through stories, drawings or anything that show your reasons and strong feelings.
To know more about passion, READ
Step 5.
Many of us think narrators use wrong information to clarify their message. They hide some of the facts and give careless guessings (when they don't have anything to support the idea). Sometimes they add their tricks of speech to make things more cloudy. As a Storyteller, be authentic. Because today or tomorrow, people will start noticing the blindspots in your actions.
Then again, narration or storytelling don't say that you have to ignore the facts. Try to convey your viewpoints in a narrative approach. And don't forget to mention the facts at the end or beginning of your story.
I will give a beautiful example (A story I read not so long back), The story of Sultan Shahryar and his wife, Scheherazade:
There was a ruthless Sultan who used to murder all his concubines after spending one night with them. The reason for his hatred was the betrayal of a woman whom he truly loved. To bring back Shahryar from his frenzy state, Scheherazade, the vizier's daughter devises an arrangement to end this act of cold-bloodedness. She marries Shahrayar and then begins to tell him a story that night. The Sultan consents to her storytelling condition of because it was her final wish.
However, she stops the story in the middle, with the goal that he will be eager to hear the rest the next night. The following night, she completes that story and after that starts another, following the same pattern for 1,001 nights until Shahrayar has a change of heart.
To begin with, the Sultan never was a person of cruelty. As a part of his kingdom, the girl knew and felt that more than anyone. Her motive of the storytelling was to persuade and make the king realize "It's time to move on and return back to his kind self that he supposed to be."
Conclusion:
Humans have always communicated through stories -- Stories with enormous power. They impact life and shift behaviors. I don't think you still have doubts on that. Even if you can't do storytelling every time but do it in special occasions. This is also a technique for leaders that wouldn't stress out their people to understand the values of the organization goals.