This Blog is the Part3 of the Restructuring IT Services with Scaling Framework series of blogs. Please find the other Part1, Part2, Part3 (this blog)
IT Service Organizations program execution primarily relies on Project approach with variants of Project execution model - Time & Material, Staff Augmentation, and many other approaches and the confusion is how to apply agile methods, approaches with these Project execution model. The next big challenge is to perform the overall coordination of multiple teams (Program execution) well, especially with the distributed team working in different geographic solutions. Apart from this the work environment should be supporting lean-agile practices to enable faster communication and active collaboration with shared understanding. How to achieve these fundamental requirements without disturbing the existing ways of working.
Why Continuous Value Delivery?
Continuous enables small batches and a pipeline concept to make a smooth flow of value from start to finish, and maximize value & minimize waste as per lean economics. Enable Agile Teams with focused & prioritized work (as per agile economics) and support motivated individuals to achieve the highest potential through the lean-agile mindset based workflow.
Scaled Agile Framework is one of the popular scaling agile frameworks that helps many organizations to adopt agile at organization or enterprise level with various configuration (like we saw in the Part1) of this series.
Where to Start?
We know that the entire organization has to be transformed structure, ways-of-working, approaching & executing daily work with lean-agile mindset. How to start this transformation?
1. Change the Office Structure to support the lean-agile mindset (visualization, team and individual workspaces, collaboration spaces)
2. Identify a House of Lean for IT Services (build your poster before the training and transformation)
3. Understand the importance and core elements of Frameworks
4. Emphasize the importance of training (and life-long learning)

Goals of IT Service Organization Transformation
1. Become a Lean Organization
2. Support Agile Teams and Teamwork
3. Support Motivated Individuals to achieve their highest potential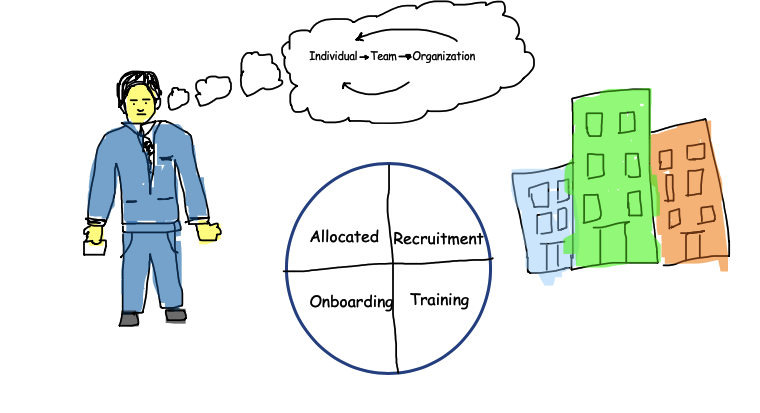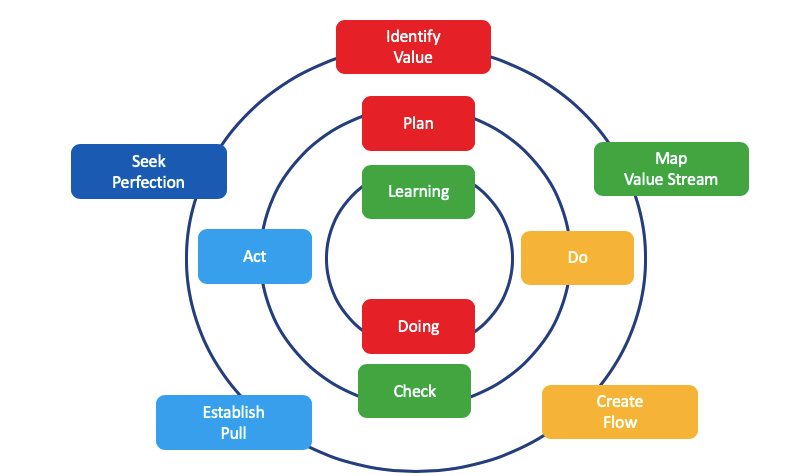 Step1: Become a Lean Organization (step-by-step)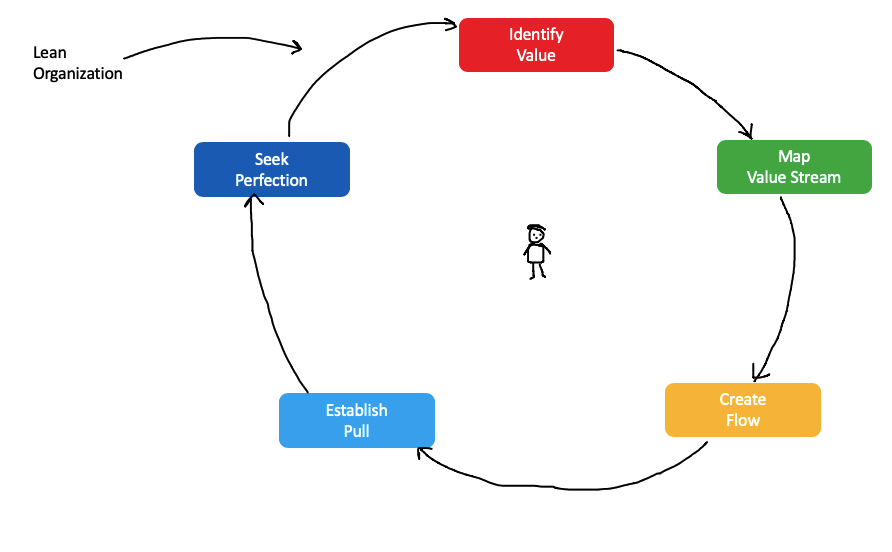 Step2: Support Agile Teams and Teamwork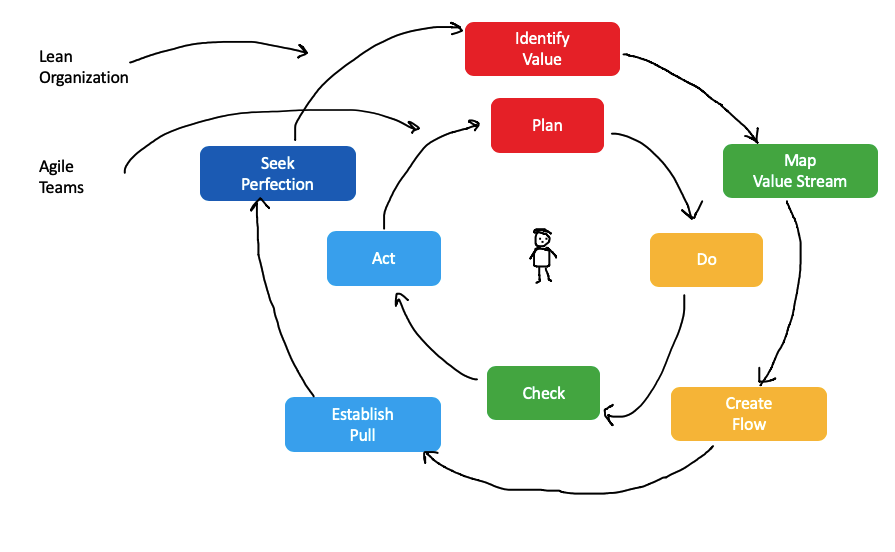 Step3: Support Motivated individuals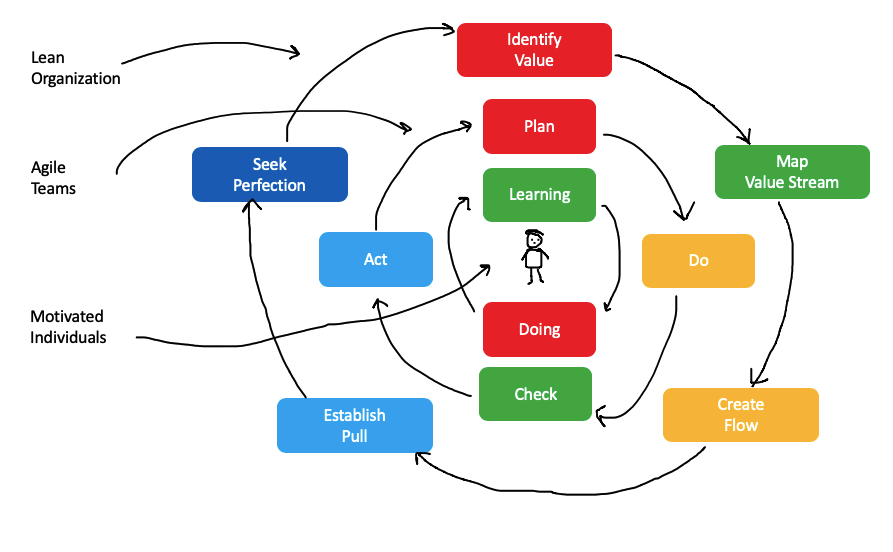 Training
One of the best ways to start transformation is, to begin with, training; training everyone is key to enabling a shared understanding.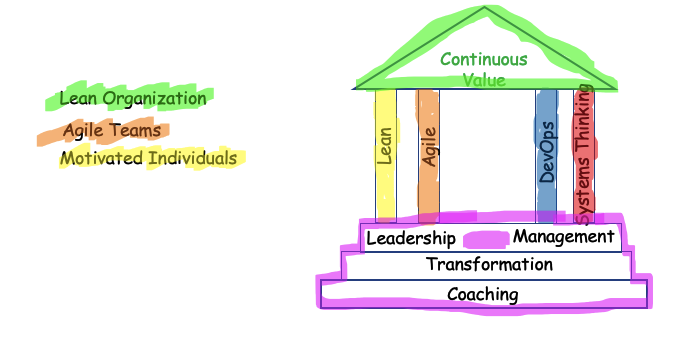 What trainings are required?
Lean-Agile Foundations, Agile Mindset, Lean Thinking, Systems Thinking, Lean Product Development, Design Thinking, DevOps, Technical skills, Collaboration, and facilitation skills, Lean-Agile mindset Leadership, and Management approach.
Training Audience
Leaders, Managers, Teams, Support Teams, Facilitators (Transformation Agents), Customers and Customer Stakeholders.
Coaching
Coaching by experts for a mindset change, technical capabilities, and abilities, DevOps, Adopting frameworks and implementing the frameworks with defined goals are key.
Learning Structure
The entire organization when transformed provides a learning structure, shortens feedback loops through the framework implementation, enables continuous improvement culture with broad and deep shared understanding of the goals through vision-based strategy.
Why Distributed Teams?
Distributed Teams help each other with different perspectives, collaboration based shared understanding, establish global teamwork with fast learning cycles.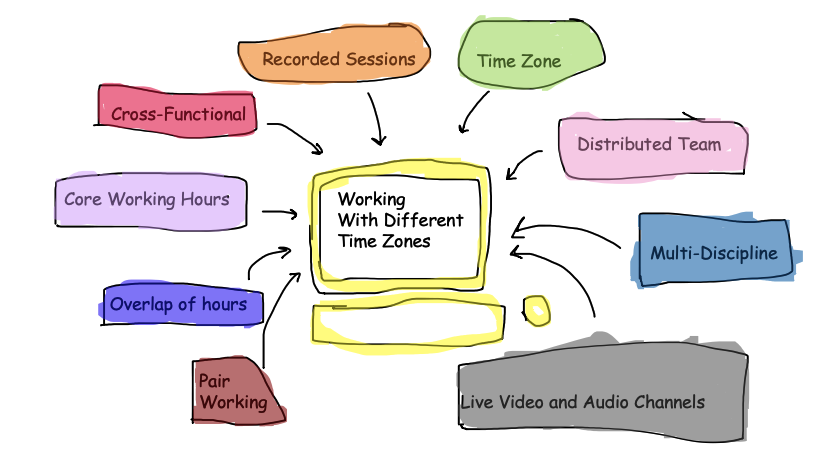 Solving Distributed Team Challenges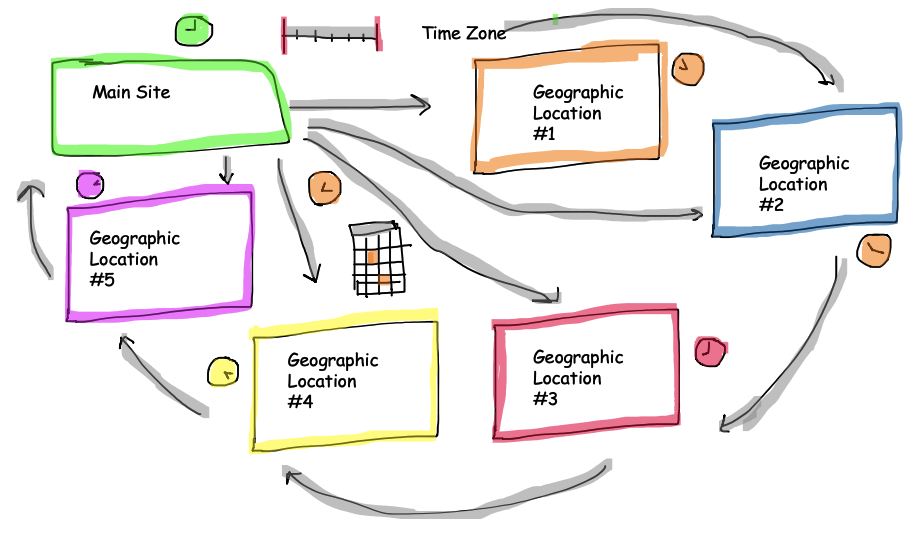 Why Lean-Agile Mindset?
Lean has been the fundamental paradigm shift for manufacturing and agile has been the movement to finding better ways for information flow based software development. Both Lean and Agile based on Systems thinking. Everything is a system, and we need to make every system healthy and performing to maximum potential.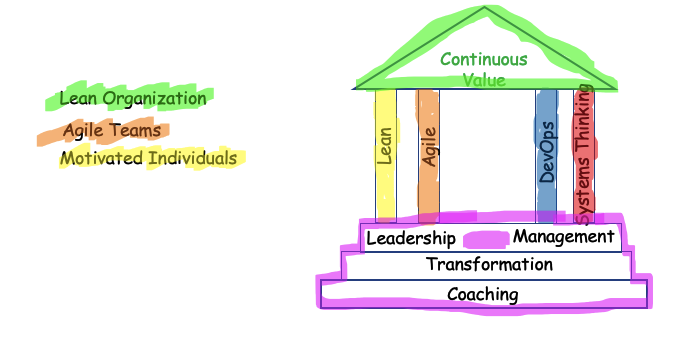 Why Frameworks?
Frameworks are the easiest way to enable a shared understanding with initial coaching and enable a self-transformative work culture. Leadership provides initial and on-going support and transfer the exact lean-agile mindset through frameworks, which helps to build a lean-agile organization and continue to improve with adopting required practices and thus enabling adapt to change.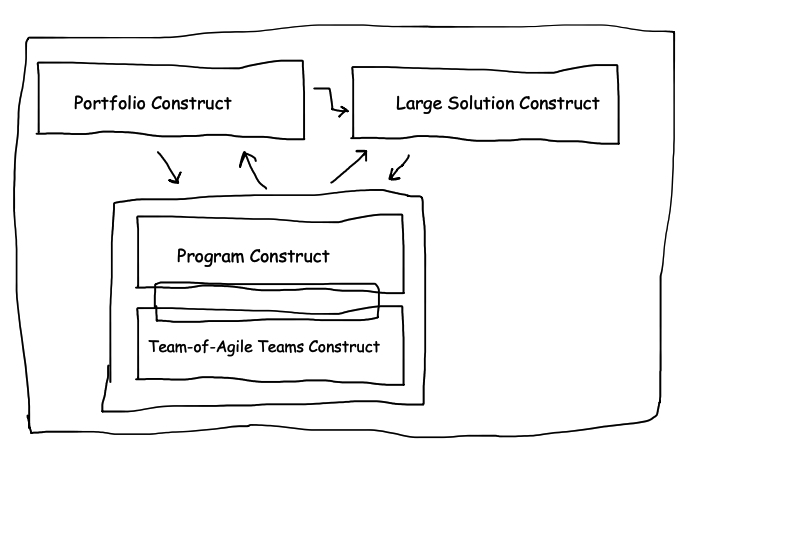 Why Coaching?
Coaching is an essential part of the transformation, and with initial and on-going coaching the coachee will get well-connected with the vision, goals, strategy, and structure.
Why Transformation?
Transformation is the core of modern organization which requires to adapt to changing market conditions, enable faster time-to-market, continuous value delivery, and continuous improvement work-culture. Transformation is a mindset, and thus when embedded into the organization core, the leaders have supported a self-transformative work culture.
Making everything cadence based and constant flow!
Cadence is the most critical element of modern organization, how to become predictable and make unpredictable events predictable. Everything we are talking and referring to is an organization, and we intentionally avoid teams or processes. As an entire organization how to make everyone work together to release value faster and when needed. Identify value continuously, explore, develop, build & Integrate and deploy, release on demand.
We suggest that you take a Lean-Agile mindset as a foundation for your organization to build a lean organization supporting agile teams and teamwork, support motivated individuals to fully contribute to the continuous value delivery and continuous improvement of the entire organization.
SAFe provides the following elements for program execution based on core values (Built-in Quality, Transparency, Alignment, and Program Execution)
1. Value Stream (for continuous improvement)
2. Agile Release Train (Value delivery organization)
3. Program Increments (small batches of incremental value delivery)
4. Architectural Runway (Intentional architecture & emergent design support)
4. Continuous Delivery Pipeline (continuously explore, integrate, deploy and release on demand)

The important points to note are
1. Changing the Leadership to Lean-Agile mindset based Leadership
2. Management Mindset towards implementation and facilitation of the framework for continuous value delivery and continuous improvement
3. Organization structure (Office environment that supports lean-agile mindset)
4. Vision, Goals, Strategy and Structure through coaching
Restructuring IT Services Organization with Scaling Agile Framework
Part1, Part2, Part3 (this blog)
We will explore more about the implementation of the SAFe® framework in the Part4.
Temenos Effect Gathering 2018- Bengaluru, India(Dec 29, 2018)
An event dedicated to the idea of personal mastery, for nurturing your beautiful self, for change agents and leaders to become their true selves.
For more details, visit our website: https://www.visiontemenos.com/events