Applying Lean-Agile Mindset based workflow
Organisations that are utilizing project-based workflow must consider lean-agile mindset based workflows which suggest long-lived agile teams that are capable of delivering value continuously by continuous-delivery pipeline concept (i.e., exploring, developing & integrating, deploying value continuously) through a lean-agile organization structure.


Applying a Lean-Agile Mindset based workflow is applying system thinking which helps to define the system, that is building the system, it is easier to visualize the system as a flow for continuous approaches (like continuous delivery pipeline), we would be able to embrace a lean-agile mindset through a lean-agile transformation.
Traditional Plan-Driven approach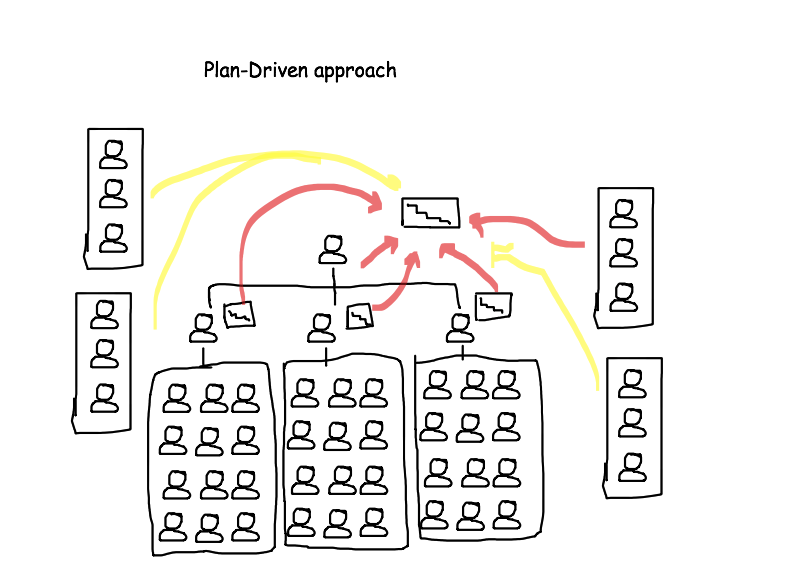 Leaders have to focus on building systems and guiding teams. While Management has to focus on making the systems work and also facilitate on the new systems that are getting built. Welcoming changing / dynamic requirements and end-to-end flow that has to support dynamic flow have to adopt a lean-agile mindset instead of a traditional plan-driven approach. The "Continuous" mindset that is emphasized by the lean-agile mindset helps to move away from the traditional processes that are not efficient and effective (for changing requirements and also focus on value-delivery) and transform the organization into a long-lived team of Agile Teams. Lean-Agile mindset also restructures other supporting activities (through the value stream approach) provided by individuals and workflows into more specific visualization - maximize value and minimize waste - by eliminating delays between value creation process / ways-of-working.
Advantages:

1. Easy to start with the existing hierarchy and management support.

2. Budgeting is allocated based on the upfront plan, design, and architecture.

3. Requirements / Value to be delivered considered frozen or at least not changed during development.

Disadvantages:

1. When there is a change in requirement/value to be delivered, we have to plan, design and sometimes need to restart.

2. Co-ordination, communication, and collaboration challenges are heavy during the development, integration, testing, and acceptance.

3. Poor visibility and teams are temporarily attached to a project structure and cannot enable long-term vision based planning and delivery.

Organisations are considering to move from the fixed, frozen structures to a lean-agile mindset / dynamic workflows which help us to change the organization based on certain fundamental principles of no. of people, visualization, continuous and value-based approaches/structures/constructs.

For example, the Scaled Agile Framework SAFe® is one of the lean-agile ways of working, where an organization can manage their programs effectively and efficiently. SAFe® utilizes (team of teams, which work together to achieve a common goal), and with help of a virtual organization structure concept like ART (Agile Release Train) for the enterprise in terms of planning, architecture, prioritization, go/no-go, release management, operations, maintenance - as a full value stream. Typically Large organizations have to focus and must be concerned about the communication and collaboration between customers, leaders (who design and build the systems), managers who facilitate the change and manage the system development, team-of-teams that works with customers and leaders to make the order.
Agile Release Train - Virtual Organisation Concept / Organisation Structure Change for a Lean-Agile organization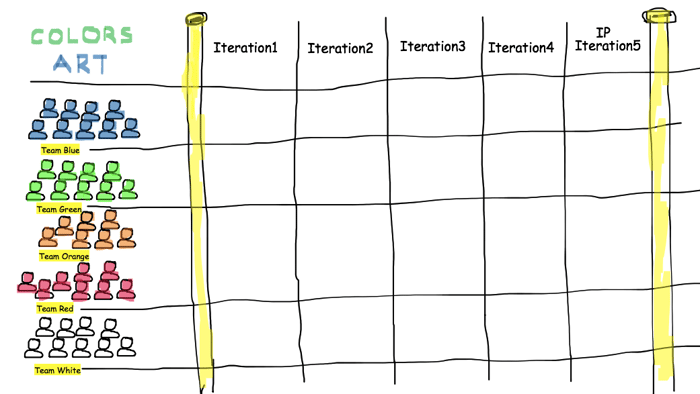 Large Organization also have to make their communication and collaboration effective and efficient, that is, splitting into smaller teams (5 to 9) people approximately and also having 50-125 people as a program instead of a having more than 200 or more number of people trying to work together as a group.

SAFe® has defined constructs that can avoid common problems that organization faces regarding restructuring and making lean-agile structures to embrace change and lean-agile mindset.

One of the SAFe® principles is to "Apply Systems thinking." which translates into restructuring the organization to be a capable system itself for delivering value and for continuous improvement, this is the fundamental goal of Systems Thinkers and Transformation leadership goals.

In Summary, Leaders must focus on changing the organizational structure to support the lean-agile mindset ways-of-working.

Credits: ScaledAgileFramework.com SAFe®
More Information and Focus on Leadership and Training/Events
We invite you to this special gathering, which brings together a group of wonderful people who fill workplaces with joy and energy. By connecting with each other, you embark on a journey that leads to better clarity about the changes you seek, gain collaboration opportunities and leave with a concrete action plan.
Temenos Effect Gathering 2018- Bengaluru, India(Dec 29, 2018)
An event dedicated to the idea of personal mastery, for nurturing your beautiful self, for change agents and leaders to become their true selves.
For more details, visit our website: https://www.visiontemenos.com/events