Large Scale Lean-Agile Transformation with SAFe®
Agile Transformation for multiple teams including teams, leaders, managers, suppliers, and suppliers has to be considered as a Large Scale Agile Transformation, because of the number of people involved and changing the organizational structure with the following reasons
Moving away from Traditional Financial structures and funding towards Lean-Agile approaches

Moving away from Project structure to Lean-Agile Portfolio, Value-Stream, Transparency and focused flow

Moving away from Traditional Team structure with silos to more Lean-Agile teams delivering Features

Moving away from Traditional Leadership & Management of Leaders and Managers to a more Lean-Agile mindset oriented workflow facilitation
Organizations spending budget, efforts and time on agile-transformation must reconsider that transformation is a maturity state where everyone part of the transformation scope is fully aware of the lean-agile transformation purpose, focus, goals, and efforts that are required, introduced and trained the entire transformation scope to apply a full transformation. Otherwise, the transformation will become partial, and only the teams will get transformed. A couple of common patterns are that 1) Leaders and Managers are not included in the transformation scope, or 2) they are separately coached and trained on the lean-agile mindset, which can be challenging to get a shared understanding on the portfolio workflow coordination.
Large Scale Lean-Agile Transformations must consider the following attributes for successful transformation.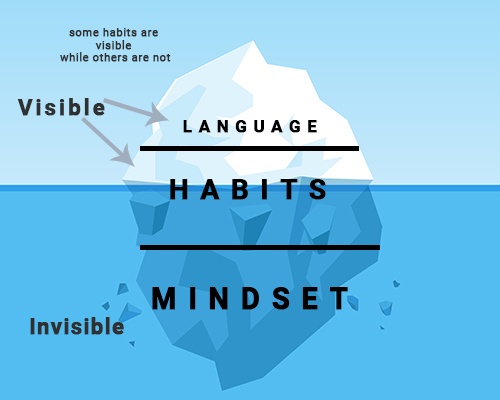 Large Scale Lean-Agile Transformations must include a specific set of people as part of the Transformation scope (Leadership, Management, Team of Teams (Programs), Support Teams, Suppliers)
Large Scale Lean-Agile Transformations must include a timeline for a set of goals as maturity towards adopting the industry related practices (specifically lean-agile practices) through a Value-Stream approach.
Large Scale Lean-Agile Transformations must include broad and deep metrics that reflect the overall transformation progress, maturity, mindset and value-delivery with continuous improvement.
Large Scale Lean-Agile Transformations must include basic building blocks of Lean-Agile practices and must consider Lean-Agile practices that can be combined like Scrum with XP and Kanban and DevOps for Continuous Integration & Delivery Pipeline approach.
Broadly the transformation can be considered as
Complete Lean-Agile Transformation
Partial Lean-Agile Transformation
Complete Lean-Agile Transformations take proper considerations regarding Transformation scope, vision, goals, strategy, and structure. They may directly adopt an existing Scaling Agile framework like SAFe® and transform with clarity by introducing the entire business line (leaders, managers, teams, suppliers, support teams) the topic of transformation and intended steps, roadmap and roles that will need to support the transformation with timelines.
Partial Lean-Agile Transformations, on the contrary, might only focus on the team level transformation more than the leadership and management and spend more efforts on optimizing the teams first. While this may look like a good start, on the long-term the partial transformations don't address the lean-agile leaders, develop people for change and self-organization maturity state, because of the continuation of system level impediments and system thinking is absent via a common framework.
At Temenos+Agility we suggest a simple step-by-step approach called as Iceberg model which talks about specifically changing the mindset through proper guidance as follows.
Language (L)

Habits (H)

Mindset (M)
Utilising the LHM Model, we could focus our efforts in changing the Language, Habits, and Mindset gradually than immediately and bring the required lean-agile transformation for the organization within a defined duration utilizing another approach called as Shu-Ha-Ri.
Shu-Ha-Ri
Many thought leaders have suggested the Shu-Ha-Ri technique from martial arts to Agile adoption for organization. Shu-Ha-Ri may directly represent Starting Point, Learning, Practising and getting better stages of Learning a technique or ways-of-working for the agile adoption and agile transformation.
At individual level and organization level, this gradual transformation embraces change in a more sustainable way, and with the help of Models and Frameworks we can adopt agile practices by learning, practising & experimenting and bring agility in a more self-organized way rather than a top-down or bottom-up approach.
Shu - Training the Individuals for Awareness, Foundations through language, roles, basic constructs, why and the values, principles
Ha - Introducing a continuous and regular coaching effort to enable the learning of an individual by self-learning and collaborative learning practices
Ri - Learning & Structures provided by the models and frameworks help an on-going evolving and self-organized approach to enable an agile value delivery with continuous improvement, provides an overall maturity to guide themselves and others within the transformation scope.
Language (L) changes through Training

Habits (H) changes through Coaching

Mindset (M) changes through encouraged Learning & changes to organization Structure
Scaled Agile Framework with SAFe® is a much direct approach like mentioned in this blog, where your organization has a transformation scope through the specific configuration of SAFe® and also include proper role-based transformation to enable lean-agile leadership and a gradual agile practices adoption through cadence & synchronization approach via Program Increment and Agile Release Train virtual organization concepts implementation.
To know more about SAFe®, please visit ScaledAgileFramework website.
https://www.scaledagileframework.com/what-is-safe/
Credits: ScaledAgileFramework SAFe®