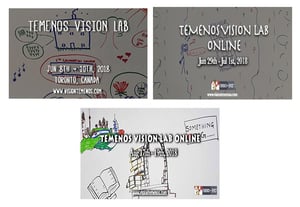 For change agents and leaders, not to benefit from meaningful events and gatherings is a missed opportunity! We invite you to indulge in some of the most transformational events from Temenos; designed with hard-earned understanding, organized just for you.

Temenos Vision Lab- Toronto, Canada( June 8, 2018)

This proprietary lab helps you focus all your energy on building your inner Vision, aiding organizational transformation.

TrustTemenos Adventure Gathering 2018- Frankfurt, Germany( Sep 28, 2018)

We invite you to this special gathering, which brings together a group of wonderful people who fill workplaces with joy and energy. By connecting with each other, you embark on a journey that leads to better clarity about the changes you seek, gain collaboration opportunities and leave with a concrete action plan.

Temenos Vision Lab- Amsterdam, Netherlands( Nov 2, 2018)

Another venue to take an exquisite inner journey, to find your true Vision.

Temenos Effect Gathering 2018- Bengaluru, India(Nov 22 to Nov 25, 2018)

An event dedicated to the idea of personal mastery, for nurturing your beautiful self, for change agents and leaders to become their true selves.
For more details, visit our website - https://www.visiontemenos.com/events