This blog is a Leadership guide for organization transformation and has general and specific topics as a blog series addressing the common understanding, patterns, challenges, and implementation approaches for organizational transformation. We will also see a set of proven implementation patterns from thought leaders for your organization and how to make you (as a leader) successful with your organization transformation.
We will cover the following topics in this blog series
1. Understanding the Current State of your organization
2. Doing a Holistic and Detailed assessment
3. Creating an Awareness, Introduction & Training Programme
4. Long-term Training & Coaching plans for Successful Implementation
5. Apply a 3-step strategy (Plan-Practice-Reflect) as a Leader to get Results
We will cover the first topic "Understanding the Current State of your organization" in this blog.
Understanding the Current State of your organization
Modern Organization Leadership has recognized the importance of Organization transformation, but unfortunately, getting a good starting point based on the current state and transforming with focus is becoming increasingly difficult for many organizations. Most importantly, organizations try to reinvent the wheel or fall into the common, well-known pitfalls, that they could have easily avoided in the first place.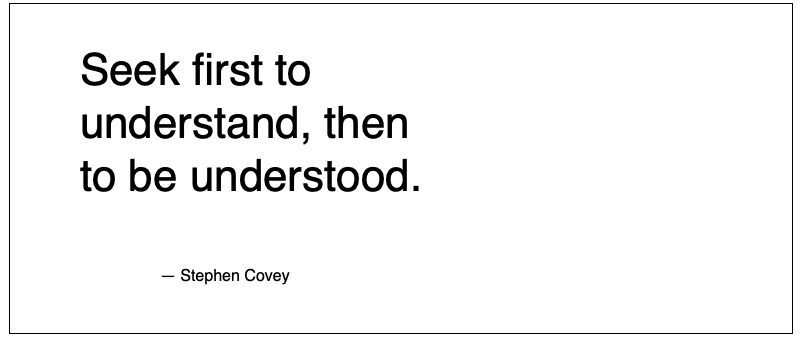 What can be done to protect the leadership from these futile efforts and focus on establishing a functional organization structure for creating high-performing organization and promoting overall organization health?
Let us take a closer look at a few prerequisite topics for our broad and deep understanding of transformation.
Leadership Focus on the Current State
We can easily observe Leaders get distracted with past issues or future planning and spend little effort for the present organization problems and facilitation of organization performance. These Leaders struggle to manage their priorities, and unable to focus on serving their employees, organization members, customers, and stakeholders.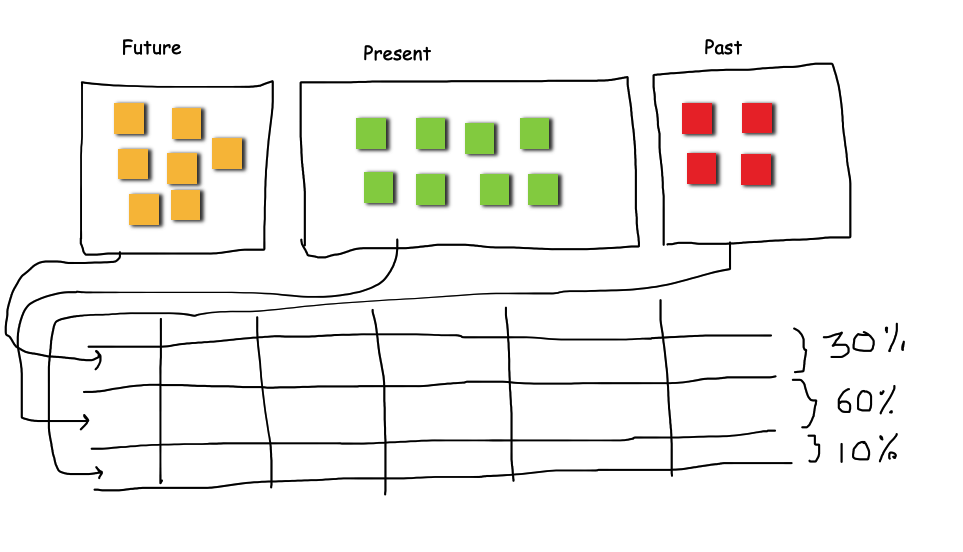 The Past issues and Future Planning considerably impacts the Present efforts of the organization. Changing the leader's perspective of how they look at the organization is critical to enable a transformation mindset.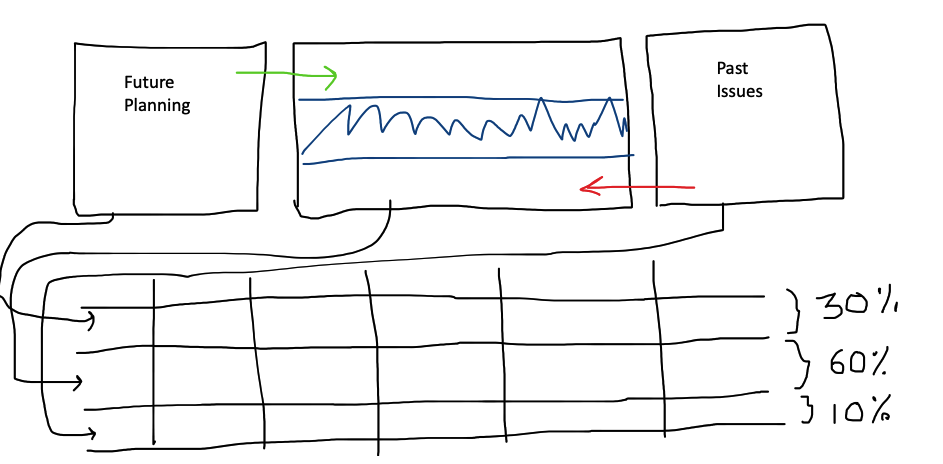 We will solve this Past-Present-Future problem through a step-by-step approach and critical focus areas (individuals, organization members, customers, stakeholders) by Servant-Leadership, Agile-Mindset, Lean Thinking, and Systems Thinking implementation, practice, and reflection.
Organization Size and Transformation Scope
Leaders of Small, Medium, and Large enterprises have recognized their transformation efforts have to be planned holistically, practiced daily and reflected on a regular basis. Their planning includes well-understood goals, supported by a strong foundation and clear guidance.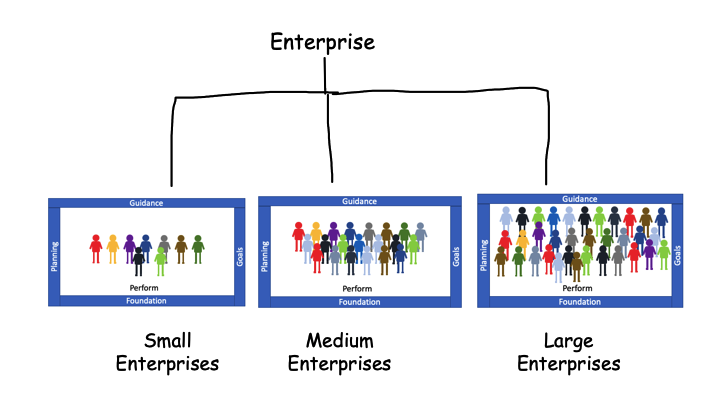 The Four Focus Areas of Transformation
First, let us bring the four essential focus areas - Individuals/Employees, Organization Members (Vendors, Consultant, External People), Customers, and Stakeholders - as a priority for starting or restarting your organization transformation efforts.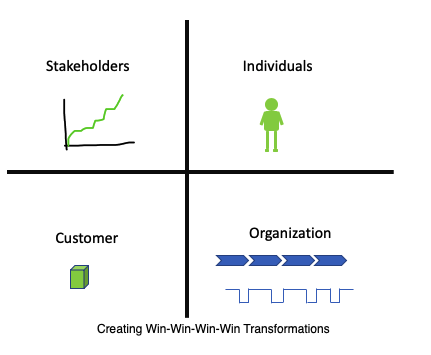 Evolution of Leadership Style
Next, we will see the evolution of Leadership styles. That is, Traditional or Hierarchical Leadership style for modern context does not address the above mentioned four focus areas. We have to recognize the importance of servant-leadership approach, be aware and sensitive to internal and external problems to be solved, jobs-to-be-done by applying Agile Mindset, Lean Thinking and Systems Thinking.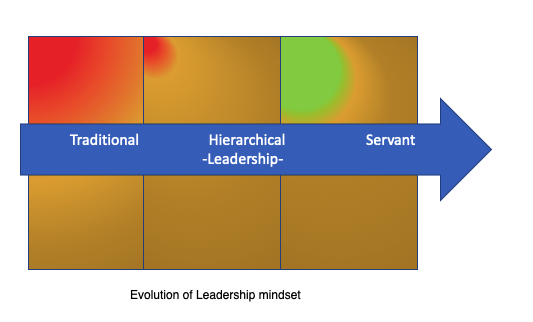 Traditional Leadership
Hierarchical Leadership
Servant Leadership
Servant Leadership in combination with Agile Mindset, Lean Thinking and Systems Thinking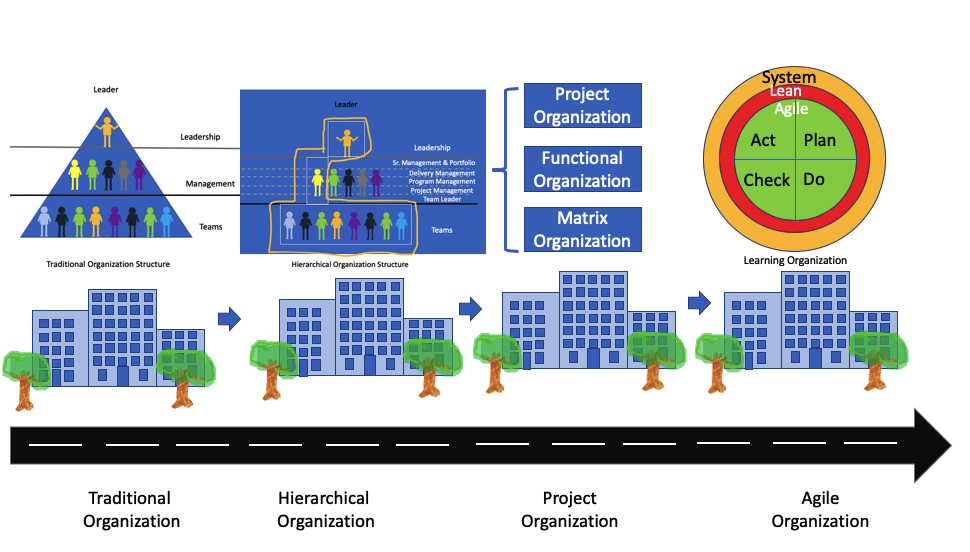 Adaptable Leadership Style
Over the past few decades, Organizations have understood the importance and relevance of an adaptable leadership approach for changing market conditions, the current state of the organization and context. These Organization Leaders have become Servant-Leaders to enable a Win-Win-Win-Win transformation for all the focus areas by serving their Employees, Organization Members (Vendors, External People), Customers, and Stakeholders (Investors, Business Sponsors, Business Owners).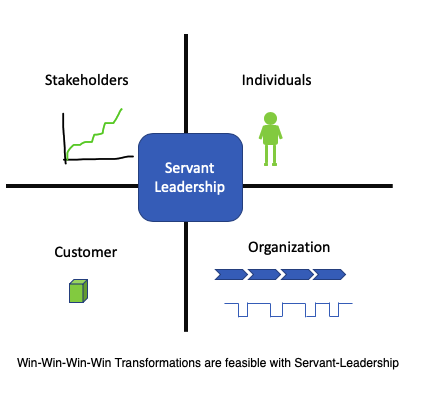 Traditional Organization Structure
A traditional structure can delay the transformation efforts and considerably reduce the velocity of the organization. With Leader making all the decisions at the top with less or no information on dynamic changes and where de-centralized decision-making is required, can be the first and foremost problem of a traditional organization.
Hierarchical and Combination of Approaches
We tried to move away from the traditional/command-and-control mindset and tried various approaches like Hierarchical, Project, Function and Matrix organization structures. We adapted plan-driven Project-based organization structures to set required focus on deliverables. We again ended up having multiple layers of management and created internal and external trust issues due to non-interactive workflow, bad communication, insufficient collaboration, and lack of vision with goals that connects individuals to big-picture approach.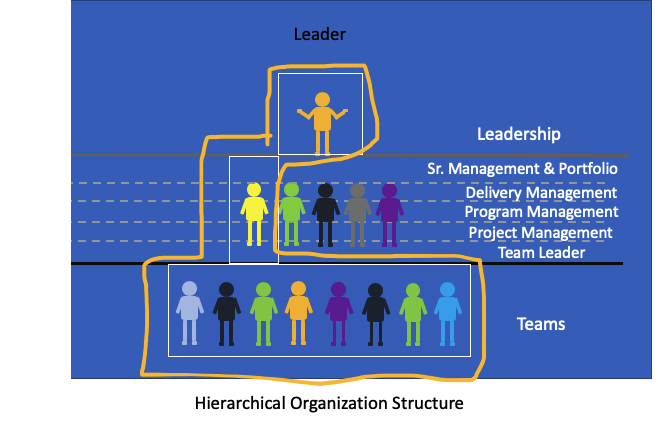 The problems with these organization structures are that they are not "continuous" enough in their flow of value and feedback. The feedback created by the continuous flow of small batches of work to create value is the much-required approach for modern organizations. Many organizations have recognized the Agile Mindset, Lean Thinking, Systems Thinking with Servant Leadership combination for their organization transformation to transform holistically providing the continuous approach and avoid silos and silos transformation.
We have also recognized the importance of inverted pyramid approach, where the excellent foundation supports the individuals and teams, high-performing work culture, easily understandable guidance, and treat them as "motivated" individuals for making their decisions themselves. The Leaders of these organizations have only one aim and focus, to serve the entire ecosystem.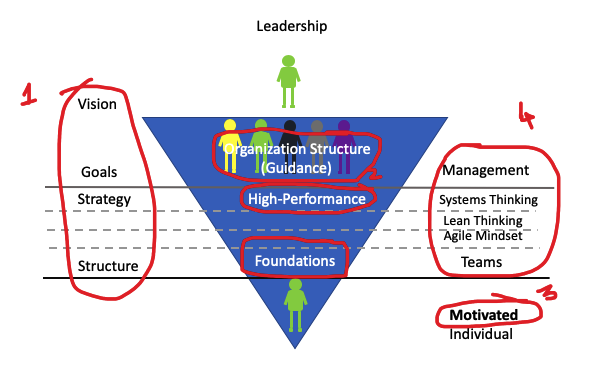 In a nutshell, we must strive hard to establish continuous delivery-transformation efforts on a daily basis. We must recognize that delivery and transformation are part of daily work for every individual to achieve satisfaction in all four areas. Otherwise, there will be gaps and dissatisfaction will grow between these focus areas.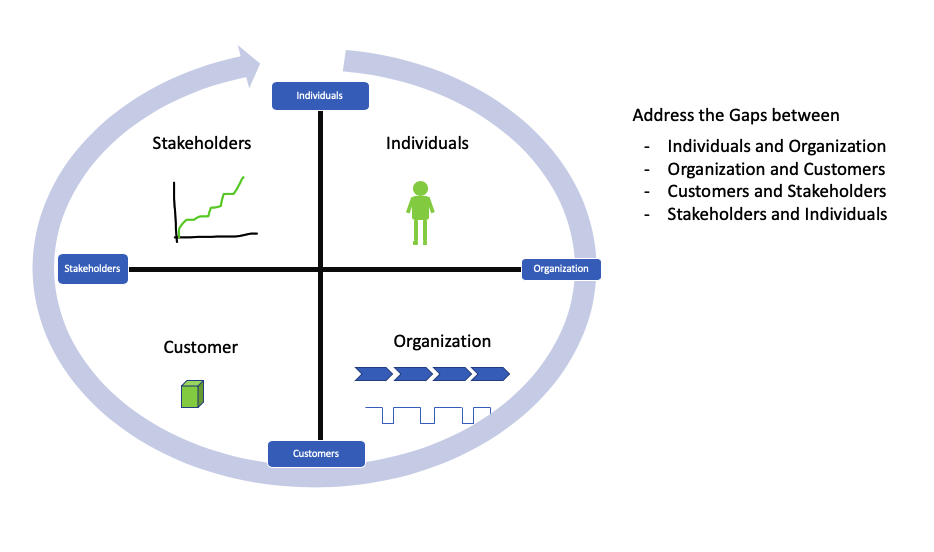 For achieving a good transformation, the organization needs training, coaching and transformation practice (e.g., assessment, planning, facilitation, and implementation skills).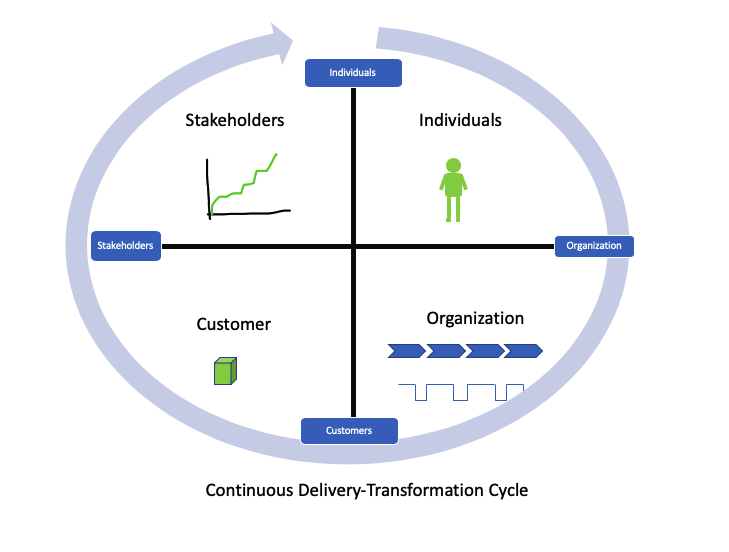 Summary
Traditional or Hierarchical Organization Structure provide very little effectiveness, efficiency for a workflow with changing priorities, evolving product/service requirements and continuous delivery-transformation requirement of value in small batches by flow and batch techniques. Recognizing the ineffective and inefficient structures and transforming them into better ways-of-working (through Servant-Leadership, Agile Mindset, Lean Thinking and Systems Thinking) is considered as good transformation. The shift in the decision-making has to happen where applicable. The centralized and de-centralized decision-making approaches must apply to their respective context to enable faster flow of value to the customer and feedback, creating autonomy, mastery and purpose platform for individuals in the system.
Next Steps
Are you an Organization Leader, We can help you bring this type of short-term and long-term result oriented transformation planning by helping you to focus on the right priorities. We can provide you the following Transformation Programme for your entire organization addressing the Leadership, Management, Teamwork and Customer Experience and Satisfaction topics.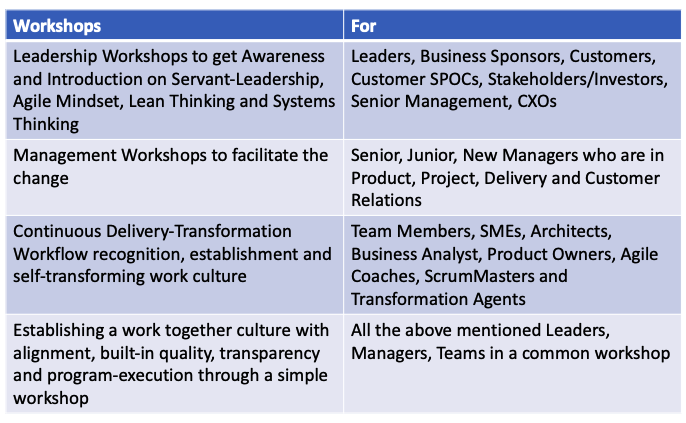 In the next blog, we will see how to do a "Detailed and Holistic assessment" for your organization transformation.
========================================================
Temenos Vision Lab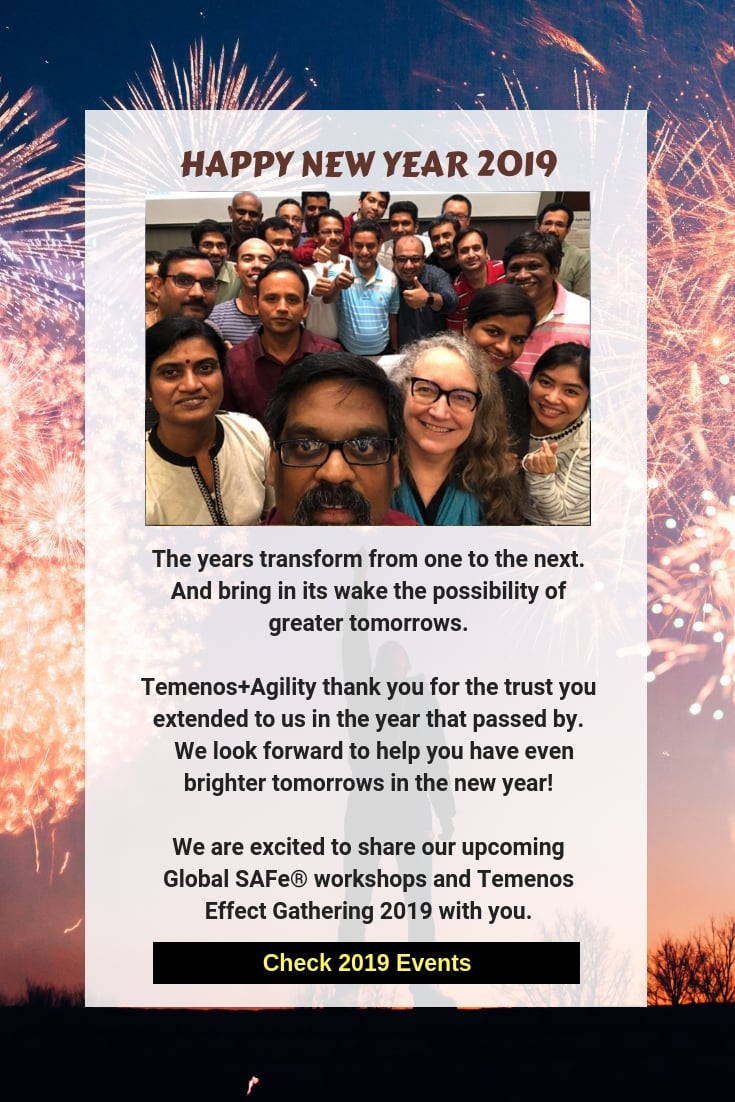 Now that we have seen how much of a game-changer personal vision could be in delivering digital or software products, the question arises as to how to discover your True Personal Vision.
Temenos Vision Lab or TVL is a unique session developed by Temenos+Agility that helps you discover your True Personal Vision. Created based on 25 years of business consultancy experience and psychological insights, TVL is led by some of the best leadership coaches in business.
An event dedicated to the idea of personal mastery, for nurturing your beautiful self, for change agents and leaders to become their true selves.
For more details, visit our website: https://www.visiontemenos.com/events