Editor's Note: Original blog was published on: Sep 25, 2018
Shortest sustainable lead time with the best possible quality & value to people and society.
- House of Lean
Value Stream is the fundamental way the business is delivering value through a sequence of steps. The steps, when mapped for value creation and delays between levels (value vs. waste) format help us to eliminate waste and gain quicker feedback and value delivery for business and customers.
In this blog, we will explore how to utilize the value-stream in our visualization steps for our teams, programs, and portfolio and delivery management through a step-by-step guide.
Value stream mapping exercise consists of few essential and straightforward steps but needs a high collaboration of all the required members who are part of the value stream (at least we need the key people who can provide details about the overall steps or their steps in the value stream).

Involve Leadership and educate, train & coach them about value stream
Value stream mapping exercise with examples
Value stream mapping with actual data
Bring the entire set of people who are involved in the value stream
Brainstorm and create the value stream map with the steps and the actual delays
Create the final summary of the value stream
Usually, the Value stream helps as a starting point to look at all the steps holistically and improve the organization. This type of mapping helps us to see which actions are at high-level and which activities are at the execution level and to further categorize a multi-level connected kanban approach for the entire organization end-to-end flow.
The value stream and value stream mapping is an integral part of Lean thinking and help us to define a continuous improvement culture through the following fundamental loop of "kaizen" big picture.
Lean Flow
Identify the value for the customer
Map the value creation steps
Create Flow
Enable Pull
Seek Perfection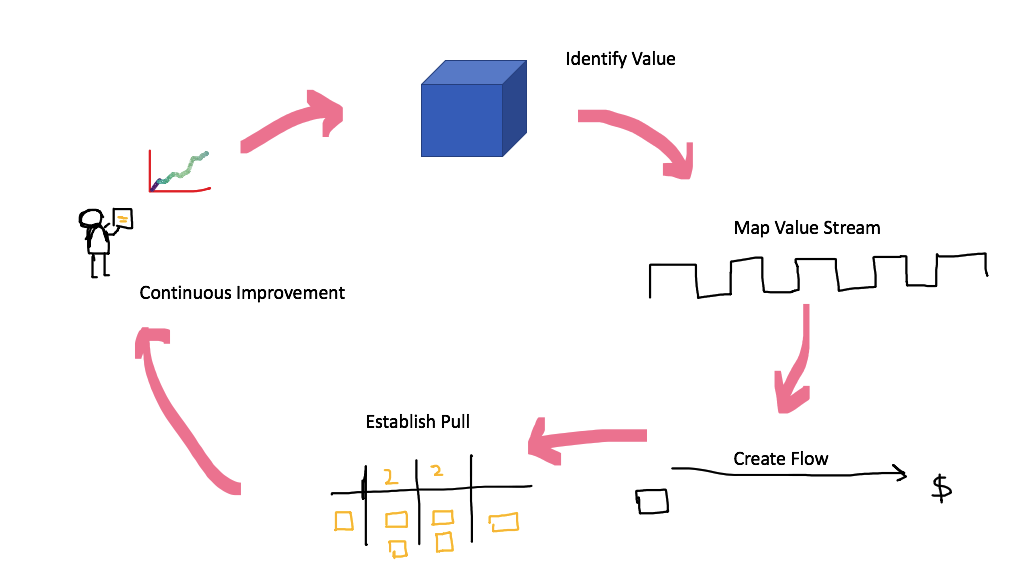 The Lean thinking approach makes a simple and powerful thinking-enabling process by a shared understanding of "Maximising Value and minimizing Waste," while we could always focus on optimizing the value creation steps, we can gain significant benefits of minimizing waste in our flow. And this step of the value stream is part of the continuous exploration, continuous development & deployment, and continuous delivery of value with the constant improvement work culture.
More SAFe® Information and Focus on Leadership
We invite you to this special gathering, which brings together a group of wonderful people who fill workplaces with joy and energy. By connecting, you embark on a journey that leads to better clarity about the changes you seek, gain collaboration opportunities, and leave with a concrete action plan.
This event is dedicated to the idea of personal mastery, for nurturing your beautiful self, for change agents and leaders to become their true selves.

For more details, visit our website: https://www.visiontemenos.com/events