Oh! The divine child of love,
Elegancy runs through her blood; she is graceful by born,
The essence God has carved on her heart,
She's like a joy of heaven descended on earth.

Celestial lights of her eyes,
Distant from mortal fretfulness; beauty of her compassion shines,
The vale awaits of her sacramental ascent,
She's like a joy of heaven descended on earth.

Raising her dreams to the world above,
She! whose soul is unsullied spring; may providence be the guide for her,
The harmony of her words that humans being taught,
She's like a joy of heaven descended on earth.

How pleasant and how vigor,
Abundant realm of her emotion; with wandering thoughts and wraiths,
The flower child grows the wings of ardent,
She's like a joy of heaven descended on earth.
("Hymn of her feathers" by Ipsita Priyadarshini)
A Maiden's Slumber
She is a mystery to herself.
She is weak at the same time she is strong, enough to challenge the heavens. She has been longing to be something, she is searching and searching for the true autonomy and absoluteness. She is yearning for the pure inspiration that could free her from the worldly shackles.
In her life, everything seems momentary, perishable with encounters and clashes. She feels the pain of her voice being tarnished away without reaching to the world. She feels suffocated of being so invisible. Then she asks herself "How should I define myself?"
As in every tale, the time has come for her to find her own story. She wishes to travel the far far mysterious lands; she dreams about the special one; she sings the songs of eternal spring; she dances with the whistling wind.
In words of Roman Payne
"I am not an adventuress. I am a wanderess. Thus, I need no money nor status. All I wish to feel the world around me. Experience the reality, whether they come from wealth or from poverty, it is all the same to me."
This becomes the most precious and insightful moment, when she feels deep trust on herself.
A Maiden's Odyssey
She embarks on a journey to find the testimony of life. She accepts the truth that she doesn't have the answers, even she doesn't know who truly she is! But she is NOT depressed neither ashamed.
She is emitting a vibrant aura. The more she delves herself into listening to the words of this terenne, the more she realizes how precious every moment is and how valuable each one's existence inside her…
Time flies! In her obstinate journey, a season comes, that brings the cruelty of life. Suddenly, the colorful world she knew has turned into something dark, very dark. She is lost. No signs of hope. No one is there to stretch hands for help or to say that everything will be fine. People around her have become estranged. She cries! She cries the tears of mother earth.
The sadness is not because of something trivial, it is an explosion of build up anger, protests and overwhelming sad emotions.
Standing bare in front of the world without a will to move, she experiences how words can be twisted into any shape. Promises can be made to deceive any heart. Values of souls can be eclipsed and wisdom of the ancient ones can be be fabricated with green lies. She is being trampled, poisoned, robbed blind, and blamed for just about everything.
How terrifying! Can she tell to anyone or to the world that is glaring at her with poisonous intents and conclusions? Can she blame to anyone for her doings? The decision was her's, not even the god can make the doing to undoing.
She has to continue the life with struggle, nor anyone else can travel that road for her.
She must travel it by herself. She knows her destiny is not far, It is within reach but her mind is lost through the enigmas of battle scars.
Perhaps she has discovered the eternity of pain. She thinks perhaps it's there since the day she was born. Perhaps it is everywhere - on water and land. So, she can't abdicate it, she has to face and walk on this road with the pride of a woman.
Oh, the Goddess of Earth! whose choir surrounds all the beings with love. You who sovereign of the land, sky & sea. You, who feeds us and rules us, and produces various fruits with colored flowers and herbs. Hear my prayer! Grace those, who follow the paths of light. Grant me the strength! So, I shall become as compassionate, strong, and perseverance as you.
She has to find the true peace. As others, she is seeking help to relate her own feelings of woundedness at the same time wanting to relieve the sufferings around her surroundings. Because she refuses to seclude down her soul, she wants to fight and stand for herself.
Being clothed in strength and dignity, she laughs without fear of the ever changing future.
A Maiden's self-discovery -- True Awakening of Feminine Archetypes
Inside her burns an ancient fire flagrant, that symbolizes the wisdom of Monumental earth, Immense sky, & Deep ocean.
Again from the wisdom of Roman Payne
"I am free in my wildness, I am a wanderess, a drop of free water. I know nothing of borders and cares nothing for rules or customs. I belong to no man and to no city. Time for me isn't something to fight against. My life flows clean, with passion, like fresh water."
She educates herself, discovers the language of the ancient ones and learns the large world is not across oceans or mountains or lands but within her own human mind. The dribbling life teaches her the mysteries of her own psyche, she learns she can be anything with the choices she has made or will make or making right now.
The Puppet
It's been coherently spoken all around the world "Puppet is a representation of false self, don't become a puppet to other people's desires, live and create your life as you intend it to be." In her life, it takes the time to learn the meaning of this sentence.
Walking on the road, in somewhere she has lost her sense of authenticness. Cheap lies (particularly lying to herself), twisted ways of living, entwined traps of fate has made her a lifeless puppet. She spends her entire life was obeying orders of any dictator (It can be her parents/husband/others).
Sometimes she starts to wonder! Is her life her own anymore, or Is she a puppet on a string, dancing to a tune? This is exactly the time when she finds herself in between revolutionary thoughts.
Now, she knows she needs to get out of this conspiring universe of lies. She starts listening to her inner guidance, stops the cheap lies she tells to herself, allows her old pattern of life to die and awakens to the truth.
The Mother Earth
Her smile is warm as the rising sun. Her embrace is as the blessings of the saint. The blooming of her sight is like a vast ocean. Leaning on her everlasting arms, every human sees the beginning and ending of the life. She is the mother, the partner, the friend, the well-wisher, the caregiver and the guard.
The Bonafide fool
She is the most recurring character, you will find anywhere in any story. She has a genuine honestness in her spirit. Most part of her life goes on sacrificing for others either consciously or unconsciously. And remember, her sacrifice may add value to a person's life or may not. Do you know why? Because of her lack of common sense. You can say the naive simpleton! No matter how much skilled, knowledgeable or experienced she is, all her efforts goes to vain because of her gullible attitude. She always miss the chance to win and can even get fooled with any comical act.
But the story of her journey doesn't end like this, who said it is wrong, to be honest. Actually, how many truly honest women like her can you find out there. She may not be able to say sugar coated flattery words, but she is not deceitful. The experience of being betrayed, being non-valued teaches her to be tough and insightful eventually.
You know, there is a saying "It's better to be sworn to an honest fool than a lying scholar" -- Christopher Paolini
The Warrior
She is a visionary, always finds something different, what no other can see. She has a revolutionary nature, that opposes other's view to interfere in her life. She knows and respects the true freedom of a human. No matter which era it is, women like her create legends. She surpasses and proves wrong every prophecy that binds her womanhood to live in absolute freedom.
The perfect examples of this archetype would be Mulan and Joan of Arc. They were brave, they had absolute trust and confidence in themselves, which helped these two ladies to crave their saga in the mind of every human being.
The Worrywart
She is a character unwillingly continues her journey without the awareness of true purpose. And spends the whole time complaining about how everything is so difficult in her life and others will get into trouble if they continue the same. But in reality, she spends most of the time using her delusional imaginations to create things that are never going to happen.
She is being locked in the room of full with fear, insecurity and anxiety. From which she is unable to find the way to put the key in the lock.
The Explorer
She is very passionate, passionate to invent something new. Each moment of her life is a mystery, that she wants to solve. Each day she spends with the bliss of creating new ideas or discovering new lands or finding new impressions. She is a woman of hard gained wisdom.
The abundance of her imagination and luxuriance of her curiosity are the requisites of her being a strong human being.
The Outcast
She can be anyone and be outcasted for any reason. She can be the outcast heroine of a story, where she is a leader of a rebellion army fighting for freedom. Or she is an existence of villainy, who committed grave sins. Or she is someone too much secluded from world or someone who fears the world.
Her archetype prevents her to explain or define herself to the world. Maybe she is not brave enough to come out of her shell. You know, people always have the dilemma to understand her thinking, because a hero can be called a murderer if she is born in an unfortunate era, where the heroic deeds are counted as sins.
The Otherworldly
She is a spiritual type, and one of the most special divine morphologies, with lots of sense and respect on the immaterial treasure. Her type is the closest to mother nature, they embrace the peacefulness that comes from spirituality and holiness.
I think you have met, women like her who believe the essence of life that exists in reading the pattern of life, embracing the changes of life and being happy with god-given happiness.
Temenos Vision Labs for Women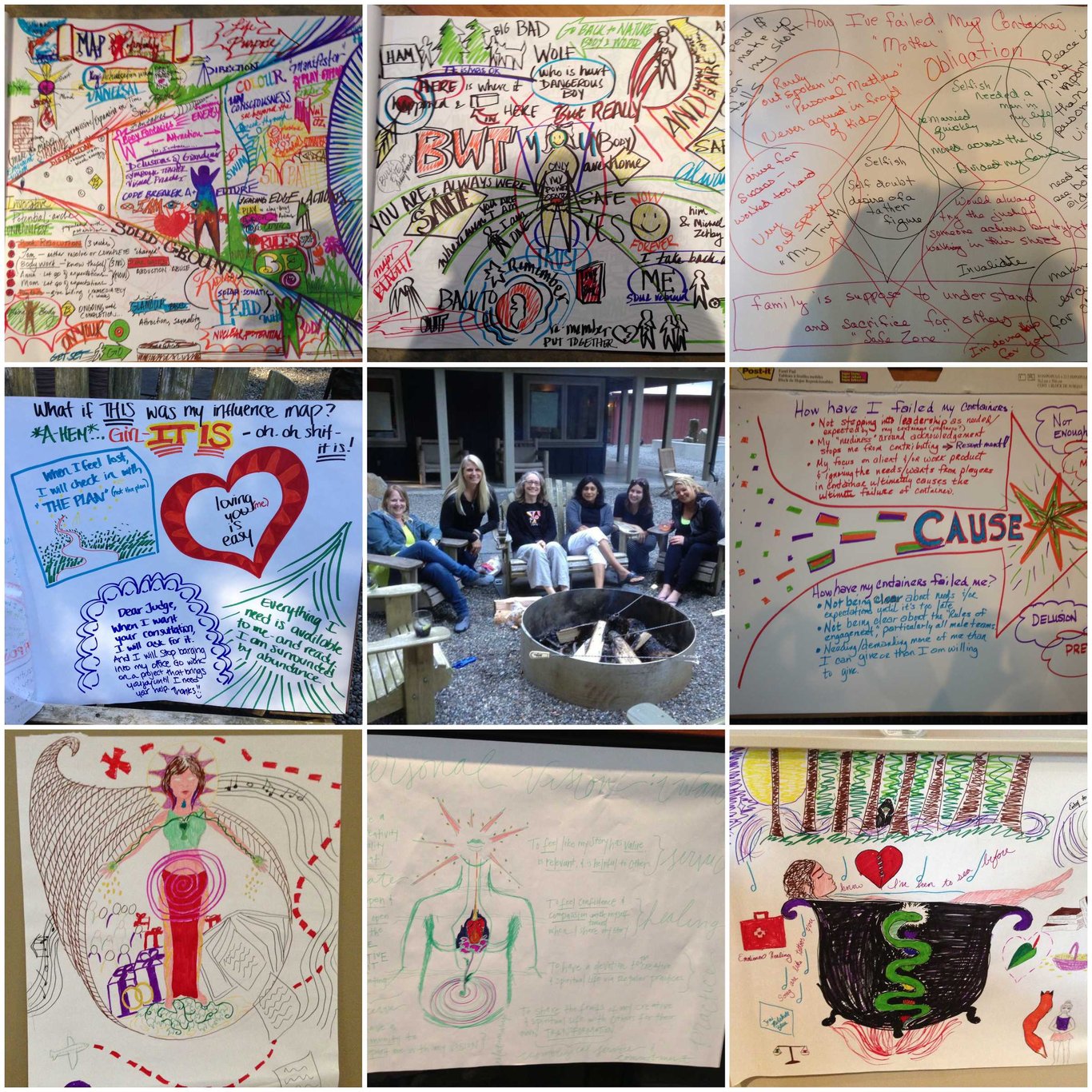 We believe she is one of us. She needs our help. She needs us to create a beautiful and peaceful future for her and her beloved ones. We are her friends, companions, helpmates, allies and co-sufferers.
Our endeavor is to show her the true reflection of her life and the subconscious individuality, she possesses. We want to be a part of her world, even if it's a little bit of time or story she is sharing with us. We are impassively anticipating her approach to us and enjoin her myths and truths in our Temenos journey.