Ahem! It's going to be my third post of this year.
Now, why am I announcing that? Well, this story is going to be exceptional. That's why, today I will quit being the usual unorthodox, weird narrator (that you have liked or disliked till now) and will humbly state my purpose.
Many of you, who follow us on social channels, must have seen the sharings/posts about the gathering, we organized a while ago. Yes, beyond any doubt, I am talking about The Temenos Effect Gathering, India.
The event was the conclusion of many months long preparation; day-to-day grinds; and the fair-minded efforts of our members. The mission was to create a highly elevating, engaging platform for self-discovery and True Personal Vision exploration.
Um! Sounds very big - I would agree if you're thinking this.
Unlike the States(USA), it was our very first Temenos gathering in India. Frankly, we were a bit on edge. How is this going to be? How are people going to respond to our intentions? I mean, when different thought cultures gather in one place, there's no doubt that something new will emerge out of that container.
As one of the novitiates, many scenarios were thrusting into my mind. Like, some may enjoy the storytelling and thought-provoking metaphor, but others may criticize it or simply scratch their heads with a puzzled look, wondering what this whole thing is about.
From my experience, Temenos Vision Labs are different from any other transformational approach happening out there. But I could see the confidence that our facilitators were showing on their abilities and the power of a Vision lab. As per them, it has never gone unsuccessful. This retreat is something people would come to love because of the heart-to-heart communication, which was about to happen.
I remember a participant saying,
"I came to the gathering with a pen and note,
hoping to write down all the knowledge I can grab from these well-known leaders. Astonishingly, I didn't need it for the whole four days.
But the things I achieved are far greater than any other conference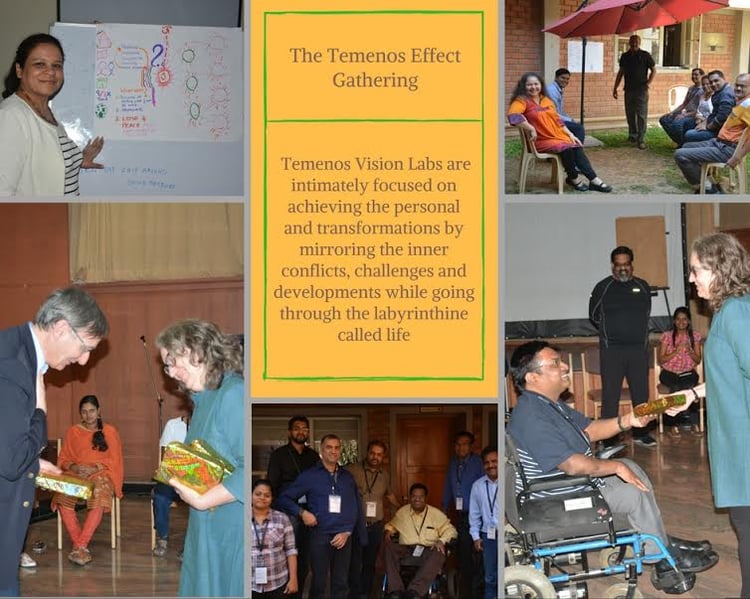 While writing this statement, I can hear myself making these chuckling, giggling sounds. You can't imagine, how happy we were, when the participants were energetically revealing their takeaways, at the end of the day.
Here I would like to quote another interesting dialogue:
"Have you ever gone to a conference, where all the discussions are about you and only you. How were you? What are you now? What have you lost? What are the things you still have? What can you achieve in the future? What are your potentials? What are your goals and dreams? In these past years, I haven't given a single thought about these things. While, after coming here, I am finding those deep questions and answers again."
- says one of our participants
We are always in a realm of disharmony, which often forces our thoughts into the semblance of plausibilities. Like, I am never satisfied in doing one thing, I want to do many things at a time and I always run out of time. Consequently, the conflicted mind takes these sort of emotions as the cornerstone expression of human life.
That's why, Temenos Vision Labs are intimately focused on achieving the personal transformations by mirroring the inner conflicts, challenges, and developments while going through the labyrinthine called life and leading to the container for collective transformation.
When we understand, every story emerges from an individual's actions or choices, we come to a point of truce with ourselves. We understand that every experience is a key to the door of independence or freedom in thoughts.
Putting in a nutshell,
I would describe The Temenos Effect as an evolving step towards the same world you have seen up to now, but with the newly founded gifts you have gathered or came to know about.
Here I pull the curtain to this story:
As any human being, you have not always chosen the safest path, rather you have scads of self-sabotaging habits. Nevertheless, of those uncounted efforts you put to be receptive, somewhere in the subconscious, you would take the bait and without a hitch, would fall into those traps. Even so, you firmly believe this is life with no exception about it. You are living, and the living is solely influenced by the things you have learned from the invited failures.
P.S. Here's the invitation to Join me and my friends on this journey of seeking our true personal vision at The Temenos Effect Gathering, happening on April 2017 in Bengaluru India.