Be it Agile Transformation, DevOps Transformation or Digital Transformation, it always calls for change. Any change process starts with the awareness that there's a burning issue to be resolved within the organization such that a tipping point is reached. Change does not come easy and it is not the same for all. When we speak about enterprise transformation, we need to be well aware of the underlying tech disruption. Please find more details on this at Singularity University.
Based on the specific change that is in focus, the plan and strategy can vary. However, certain guiding principles still remain the same and in this article I am going to share my views and experience of this journey.
Step 1 - Reasons driving the need for transformation
Usually, transformation projects are triggered when the leadership realises that the business/organisation needs to be refreshed to tackle the challenges of the new market paradigms and to better compete in the digital world. WHAT GOT YOU HERE WON'T GET YOU THERE.. Once this competency trap is caught, companies begin to take transformation more seriously and make meaningful changes in the way they work. But just because they start taking it seriously, it is not going to make the change any easier. It is good to have these changes set as clear goals in a SMART manner.
Specific (simple, sensible, significant)

Measurable (meaningful, motivating)

Achievable (agreed, attainable)

Relevant (reasonable, realistic and resourced, results-based)

Time bound (time-based, time limited, time/cost limited, timely, time-sensitive)
Step 2 - Develop leadership
Bring on board coaches and leaders with experience in organization transformation. Their prime goal is to develop the leadership, enable the organization with vision and purpose, create ideal conditions to experiment, empower people to think differently and facilitate collaboration between teams. Having XSCALE Alliance's Leadership as a Service goes a long way in moving from Command and Control rigid structure to Mission Command approach to leadership.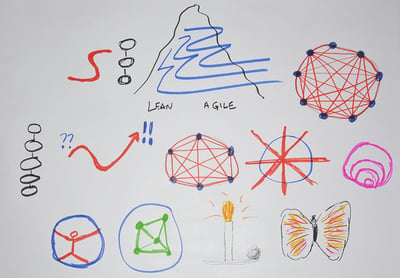 Agile methodologies have redefined how we perceive organization transformation
Step 3 - Connect at all levels
It is not a rare occurrence to see disconnect between C-level and middle management, and it might as well be the case for all levels. Always look out for signs of disconnect and proactively work to overcome them. Leadership goes beyond a title. Seek out a team of motivated people from across the organisation, this will give the cause for change the required horsepower. When it comes to leadership at any level, it brings with it status, expertise, connection and even political importance. You need to work around it, identify and work with leaders at all levels. The team can consist of one or two people in the early stages but it must grow over time. It is important that the team enjoys full support of the top management. A buy-in for change within the top management helps spread the mandate for change across all levels. This will empower leaders at various levels to build autonomous teams that self-organize, self-manage and resolve any roadblocks.
Step 4 - Decentralised decision making
Barring some strategic and long-term decisions, decentralising decision-making improves flow and throughput and results in faster feedback loops. The decision table from SAFe® can be used to decide the decision making (pun intended).
While one may be tempted to conclude that leaders are unwilling to surrender their authority to others, some of the evidence suggests that, at times, even the employees themselves may be reluctant to step up and assume their roles as leaders.
Step 5 - Promote innovation - experiment and reiterate
Experimentation and iteration are the most common responses to digital disruption. However, this alone is not enough, we need to use the results of those experiment hypothesis —successes and failures—to drive change across the organization. Just by allocating resources to transformation projects will not lead to continuous and actionable learning in the way that short learning cycles experimentation does. Instead, we should figure out how to experiment to compete in the future while also maintaining the core business so that it can perform in the present.
Sep 6 - Continuously fill the skills gap
This originates from the team level where the team members report the need to continually develop their skills but they get little to no support from their organization to do so. Most of the companies make it a part of their KPI to update their associates' skills at least yearly, but the real need is to update skills continuously on an ongoing basis which is driven from the actual skills gap. Many organizations continue to rely solely on formal training to help develop these skills, whereas cultivating an environment that allows on-the-job learning may be more effective. You need to develop internal peer-to-peer training culture and XSCALE's triple loop learning and Agile Testing Alliance and DevOps++ Alliance's internal Master training programs are there to support you in this endeavour.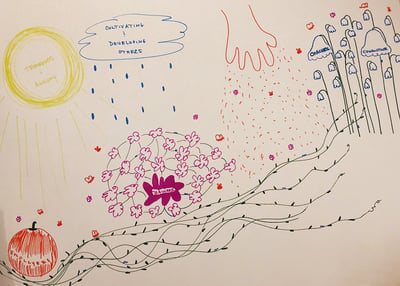 Continuous, on-the-job training facilitates sustainable transformation
Step 7 - Make the results visible
Success motivates more success. Break down the change into smaller goals which allow "quick wins" and celebrate these small victories such that the entire organisation can see. This will help develop and support momentum and remove any cynicism and negative thinking that almost always impedes progress. Set short-term targets and step forward as a team that demonstrates progress, yet keep the focus on the long-term goal. When you set small achievable goals, the failures (which can not be avoided) will not result in big setbacks and only give you opportunities to learn and go for success in the next iteration. The vision becomes more real and achievable with each small win.
Ultimately, please be careful and don't declare victory too early. After each win, assess what worked and what needs improvement. Increase buy-in and momentum by expanding the leadership team and by reallocating the associated periodically. This will help build resilience, reduce individual dependencies and percolate the changes and winning culture throughout the organization.
Finally, please remember that organizations are not machines, they are communities of people; you need to cultivate an ecosystem of people conducive to the change.
The role of an Agile Coach is critical in facilitating a successful and sustainable Agile transformation for any organization. Change Agents must bring to the table a deep understanding of Agile principles and practices, in addition to being able to coach team members and enable a collaborative effort. You can gain great insights into the role of an Agile Coach from the team of SPC4 consultants at Temenos+Agility.