"Lean is a Leadership led initiative!" - Dean Leffingwell
The objective of the webinar was to introduce 'What is new in SAFe®4.0?' and to give an opportunity for the audience to ask questions.
What is SAFe?
It is a free beginner knowledge base of proven success patterns for implementing Lean-Agile development in enterprise scale. Over the decade working with the team level agile metrics applying more effectively, and struggling in program level, systemic and enterprise level results, in order to make them work where we should go with practices.
We didn't start with program level or portfolio level, we started with the understanding of Scrum and XP heartbeat. Then I became the fan of scrum because it is a very lightweight project which is practiced, this teaches us that 'What a team is?' and XP taught us that 'How to get back to the business?'. Those are the certain patterns which added back the things we needed, the architectural governance or architectural guidance. We recognize that no team is an island, they are the part of a large organization and they are the part of a portfolio.
SAFe is not just about practices, but it is about integrated set of proven success patterns at an enterprise level and it is important to see how the framework shifts with all this things, we don't just have agile, we have lean, portfolio mechanism, economic framework, we have something coming from good to great as solution and portfolio meetings like that. So my question is, "How did you bring all this together?"
In 2011 we formed Scaled Agile Inc., we introduced version 1, then version 2 and then version 3, we needed the time box, we needed the things to change. So it is not about software's, we need guidance as well. So when I produced this SAFe®4.0 we integrated the learnings from 3.0 and that is working.
At instance we are 4.0 here, we are probably going to be 5.0, the people in this field of works on 'What we are going to highlight?', 'What we need to deprecate?', 'What we need to eliminate?', and 'What we need to do random to continue down on the path?'. We continue to go bigger and bigger in more complex systems and we continue to provide a framework to support you. In the merger, I believe there is a system change and in SAFe®3.0 or SAFe®4.0 we labeled that to call for software system engineering and in our analysis we made the system complex and large in physical existence.
Dean discussed the newly introduced SAFe®4.0 framework with reference to its big picture. He explains that something which is not changed here is the core values and the reason is they are the main insights which cannot be altered.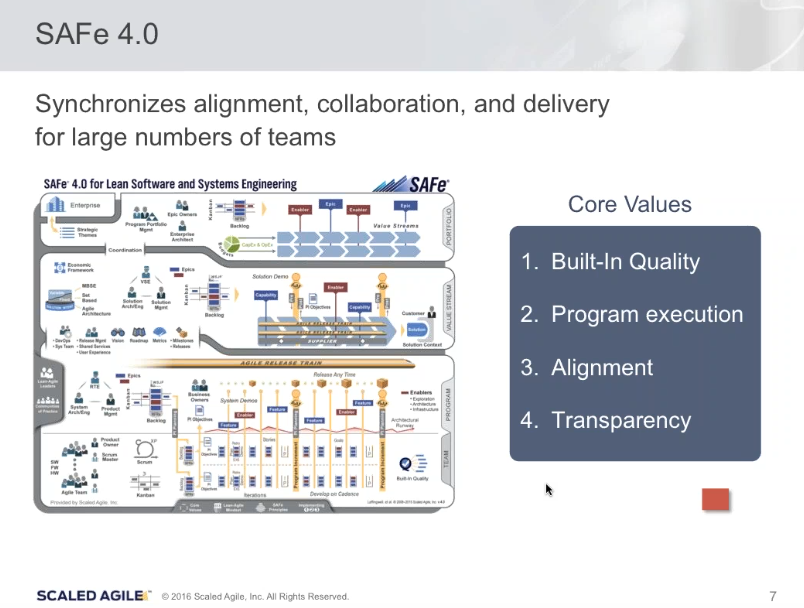 Dean also talks about the four levels in SAFe4.0 and how the value stream level can be expanded or hid in the big picture of framework.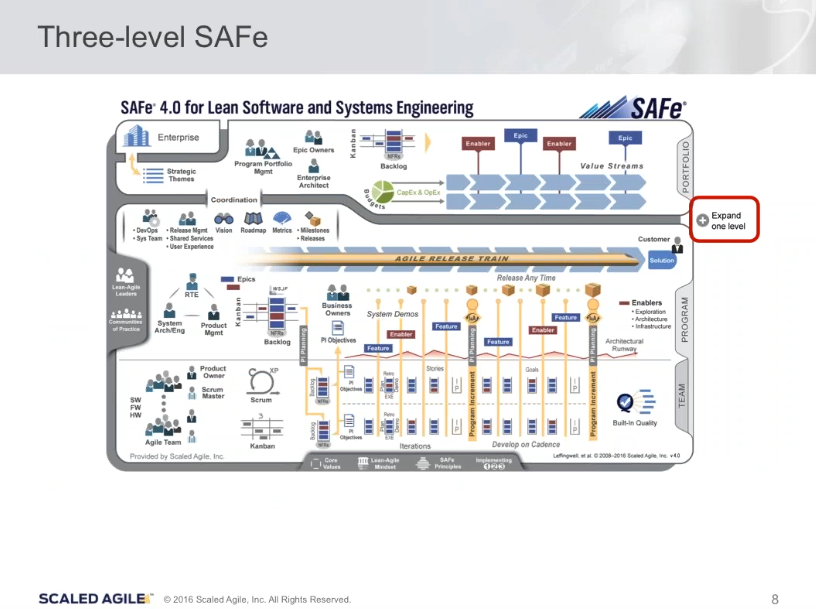 Further, he continues with the comparison of version 3.0 and 4.0 for a better understanding of the newly introduced 4.0 framework.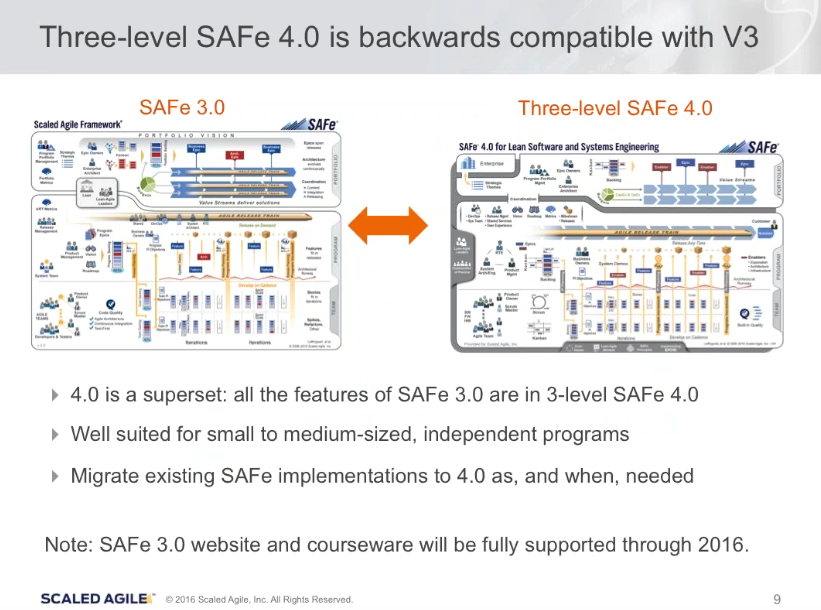 Dean talks about the latterly included foundation layer and its importance.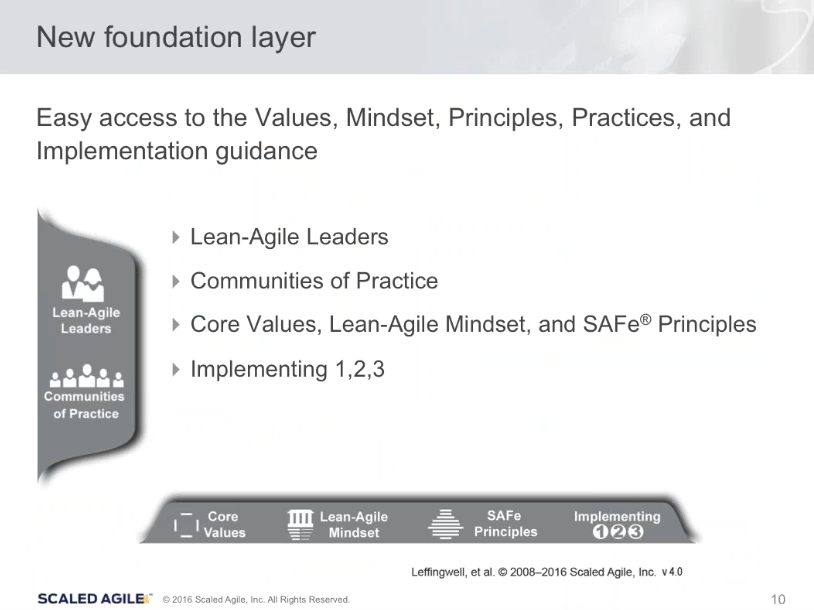 He specifies about the significant and integral SAFe principles, which are added in 4.0 version.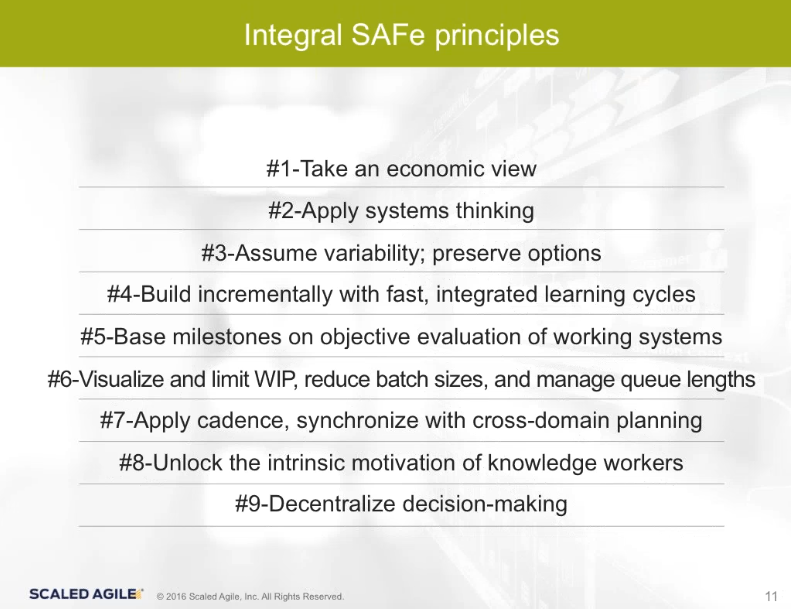 Then he talks about the changes in program level, where he specifies about the different changes like new updates on program Kanban system, vision, and roadmap.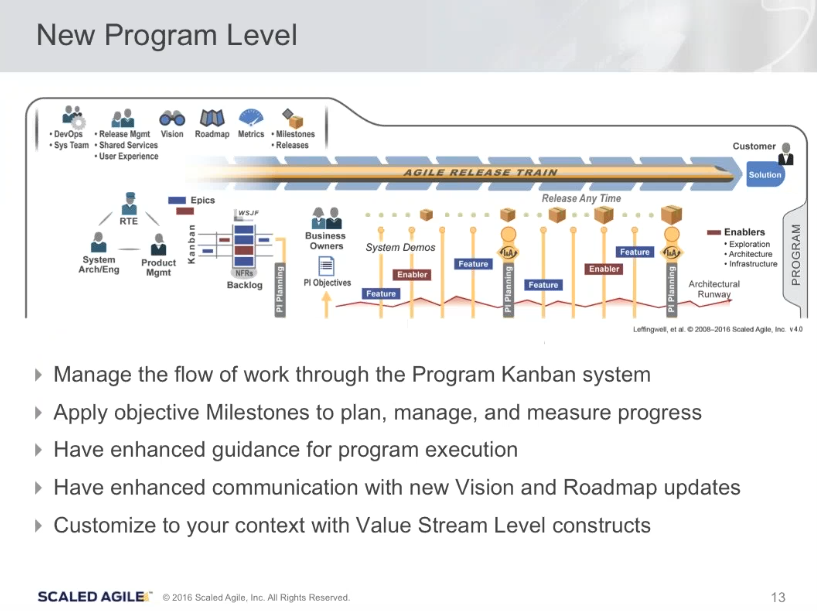 Then furthermore, Dean explains about the enablers which are found at all levels and their functionality. He also stressed on program kanban for flow and features readiness.
He continues his talk on the expanded team level, and how it supports the team with software, firmware, and hardware. Also briefs about the PI planning and how does it work. The practices used like Scrum, XP and Kanban.
Then he goes on with the major change in the framework, that is the introduction of value stream level.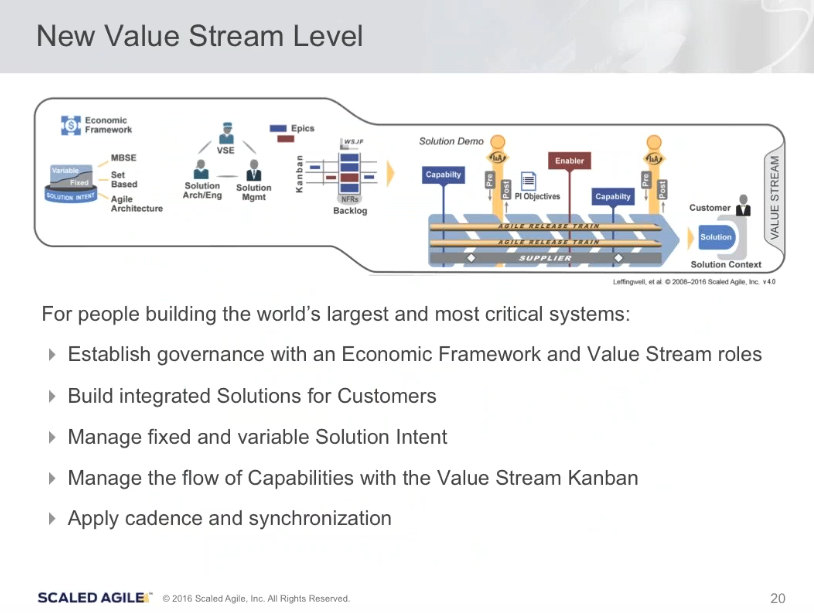 Where Dean emphasizes on governance with framework and value stream roles. He talks about the solution and the solution context. Also specifies about the capabilities and its flow. He also briefs on capturing knowledge in solution intent. Stresses about why do we have software requirement presentation. Also discusses the customer responsibilities towards the solution and customer impact.
Here he describes the supplier chain, different Agile Release Trains and how they are planned in accordance with PI. Dean also specifies about the solution demo and how it brings out the objective evidence of all the work done.
"Train Everyone and Launch Train" is the simple quotation given by Dean which is a practical and working method.
Visit www.scaledagile.com to know more details about SAFe framework.
Checkout the Events Calendar for upcoming SAFe® Program Consultant (SPC) Training & Certification classes.