Another great session with Selena M Delesie on the foundations of #Temenos at the #leadwithlove conference ... We spoke of #thechangedagent #yugen #supplication #leadership and many leading edge ideas that #wedontknow about. My favorite part begins at 14:45 ... please listen
Some highlights ... We spoke of these ideas:

The power of change agents leading from their own personal transformations

3 steps for organizations to dramatically improve their adoption of agile

Why an agile transformation initiative is only as good as the internal state of the change agents

The true power of servant leadership (it's an art, not a science)

3 steps to lead powerful change in an organization (it's a powerful blend!)

How to create containers that enable people to thrive

The 5 major leadership shifts you'll experience in 2017 and beyond

My secret to engaging powerful transformation in organizations big and small
Take your own time to listen the audio, learn how to bring vulnerability, curiosity, humility, awareness and deep listening in your tool-kit as an agile coach. Also, get to hear the special message from Siraj as he shares his wisdom on organizational culture, leadership and keys to lasting transformation!
About Siraj: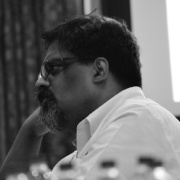 Founder, Temenos+Agility
Siraj has provided excellent change management coaching and leadership to large and medium sized organizations like Tennessee Valley Authority, TradeStation, Capital One, Extended Stay America, Ft. Huachuca AZ, DKB Household Brands, Railinc, Media Temple, EDF, Springfield TN Middle School, Ultimate Software, LabCorp, Elemica, Inc., ShoreTel, Winn Dixie Stores, Freddie Mac, Fannie Mae, NIH, CMS and Compaq Computers.

He has 22+ years of experience with people and process improvement consulting and coaching. He has deep and varied domain (Social Media, SAAS, IT, Software, Healthcare, Retail, Transport, Education, Finance) and functional knowledge and process improvement experience using Lean, Kanban, Agile, CMMI, Six Sigma, PMBOK, SOX, BASEL and HIPAA.

He is also an expert / student of Systems Thinking / Learning Organizations, People Dynamics, Transactional Analysis, MBTI, FIRO(B), Element B, Leadership & Motivation and Team Building.

He invented several unique techniques under the Temenos umbrella (Influence Maps, Supplication, Exit & Re-entry, Language of Elegance, The Interview, Clean Slate, Cereal Box, Intensive Collaboration & Discovery) that are now used for managing strategic plans and scaling operations / projects at various client locations.

Siraj hosts and facilitates the annual STIA+ Conferences.

Siraj completed his MBA in 1992 from BIM and he continues to learn every second! He is currently a PhD student at Pacifica Graduate Institute.

He loves poetry, travel, music, books and being with people.

He brings tremendous energy and passion to every engagement (woo hoo!).
P.S. Here's the invitation to Join me and my friends on this journey of seeking our true personal vision at The Temenos Effect Gathering, happening on April 2017 in Bengaluru India.