Equipoise refers to the ability of an archetype to monitor what's happening in his or her own mind and find ways to improve any shortcoming they may have found there. What's important to note is that the archetype does this even as they are engaged in activities like coaching, talking or thinking. It is a self-correction mechanism which helps you to improve yourself and be on a path of continual evolution.
This ability calls for two key factors.
One is humility. For without it, you couldn't accept the fact that there are aspects of your own self which could be improved.
The second factor is detachment. To assess your own self while you are not engaged in any action is in itself tough. But as mentioned before, equipoise is practised even as you are engaged in action.
Like the centre of this structure is balanced, equipoise calls for mental balance.
Say, if you are a coach or a trainer; you feel you could be a better instructor if you could improve upon certain quality of your mind- a certain way in which you think or present ideas, maybe. The archetype then figures out a way to 'fix' that 'bug' in the self.
Equipoise is extremely relevant for leaders and change agents in the business realm. For without it, you wouldn't be able to improve yourself, thereby improving the organization. However, some of the most astounding examples of equipoise are seen in the sports arena.
Lindsay Valenzuela- a charming name that could have been the title of an old Beatles song. But charming is not the word that you would choose to describe the sport for which Lindsay is famous- CrossFit athletics.
Bordering on endurance sports, CrossFit athletics demands its practitioners to push their bodies and minds to their limits. Just 51 of the fittest(not to mention toughest) athletes in the world compete in the annual competition that takes place over three days. And Lindsay is one of the elites
But being an elite grants no immunity against the need to toughen, to fight the vagaries the competition throws at you at every turn. Lindsay- an American athlete- is particularly candid about one instance of overcoming her own weakness in some of her interviews.
Personal or professional- the matters in the mind need to be scanned from a detached vantage point
It's the event called 'The Row,' the competition of 2013. As the name suggests, it involves competitors rowing on erg machines for 13.1 miles straight. That's more than an hour and a half of constant rowing - the kind of thing even professional oarsmen rarely contemplate, let alone do. (To contrast, for the rowing events at the Olympics, the standard distance is just 1.24 miles.)
During the event, Lindsay found in her own mind a glitch- something she calls a 'tunnel vision.' It was preventing her from opening her mind and seeing the broader picture- of the whole event. Instead, she was only focusing on the particular stroke of her arms at the moment.
By definition, that may also have led her to the finish point. But then, she knew if she could broaden her mind and see the steps ahead, and put her rowing motions in that context, the rowing itself becomes mentally easier to engage in.
In other words, she remained detached enough to see the glitch in her mind, figure out a solution, and then execute that solution.
Though change agents in organizations may not partake in activities as physically gruelling as Lindsay's, there is nonetheless valuable inspiration to be drawn from the athlete's equipoise.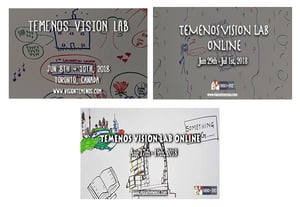 For change agents and leaders, not to benefit from meaningful events and gatherings is a missed opportunity! We invite you to indulge in some of the most transformational events from Temenos; designed with hard-earned understanding, organized just for you.
Temenos Vision Lab- Toronto, Canada( June 8, 2018)

This proprietary lab helps you focus all your energy on building your inner Vision, aiding organizational transformation.

TrustTemenos Adventure Gathering 2018- Frankfurt, Germany( Sep 28, 2018)

We invite you to this special gathering, which brings together a group of wonderful people who fill workplaces with joy and energy. By connecting with each other, you embark on a journey that leads to better clarity about the changes you seek, gain collaboration opportunities and leave with a concrete action plan.

Temenos Vision Lab- Amsterdam, Netherlands( Nov 2, 2018)

Another venue to take an exquisite inner journey, to find your true Vision.

Temenos Effect Gathering 2018- Bengaluru, India(Nov 22 to Nov 25, 2018)

An event dedicated to the idea of personal mastery, for nurturing your beautiful self, for change agents and leaders to become their true selves.
For more details, visit our website - https://www.visiontemenos.com/events