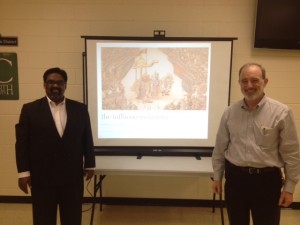 Learning The Influencer's Mantra
the Philosophy, Archetypes, Dynamics and Forces Influencing Change
Introduction:
Change artists practice the art of influence. Have you wondered how they know what to do at just the right time? What forms the basis for their practice? Would you like to improve your influencing skills?
In this workshop you will:
Gain skill in creating safety for change through Influence Mapping
Learn how Influencer archetypes and Dynamics both enable and sabotage change
Take away your "Mantra" to help you influence Agile adoption or any change

The Influencers Mantra:
Mantra (n): A word or group of words, an act or a series of acts - all considered capable of creating "transformation". ("man" - mind + "tra" - liberation).
This workshop examines the Influencer's unique challenge and provides a "Mantra" for the Influencer to become more effective. We start the workshop with the Influencer's philosophy, archetypes, dynamics, and forces before, during and after change.
For Whom:
This workshop is for Influencers. Change Artists who want to knowing themselves deeply and understand the "hero's journey" that has been their life so far, and what's next for them.
The Journey Inward:
We journey inward into the Influencer's the mental models. Participants will create their influence map. They'll learn what influences them, how they influence, and where they are on their Influencer's journey. This results in clarity of their true personal vision and Influencer archetypes.
The Journey Outward:
Turning outward, we'll interactively explore the Influencer's philosophy, archetypes, dynamics, and forces during change. In groups we'll experience how Mantras interact. Then we'll draw the Influence map based on the interactions. Using that Influence map we'll generate information and ideas on how to improve their change experience. Finally we'll apply those ideas to the change process.
The Mantra:
Finally, we summarize the "Mantra" that helps Influencers during change in any context. What does the context want/need? What is the philosophy for change? What archetypes are available or missing? What forces are involved in the change?
Workshop Outcomes:
At the end of the workshop participants will have clarity into their personal vision. They'll be able to draw influence maps showing the philosophy, archetypes, dynamics and forces for change. As a change artist / influencer they'll know the mantra for adopting and influencing successful change initiatives.
When:
June 8, 2012 (0900 - 1700) Participation limited to 16
Where:
TBD
Toronto Canada
Tuition:
$ 425 Early Bird, now until May 31, 2012
$ 525 June 1 - June 8, 2012
Registration and Payment:
Please register at Eventbrite
About Siraj Sirajuddin:
Siraj has provided change management coaching and leadership to large and medium-sized organizations such as LeanKit, Ft. Huachuca, Ultimate Software, Labcorp, Elemica, ShoreTel, Winn Dixie Stores, Freddie Mac, Fannie Mae etc. He has deep and varied domain and functional knowledge and process improvement experience using systems thinking, Lean, Kanban, Agile, CMMI, Six Sigma, PMBOK, SOX, BASEL and HIPAA. Siraj organizes the Agile Coach Camp USA and is a member of the Society of Organizational Learning North America Implementation Committee.
About Don Gray:
Don's quest to answer "What is the earliest indicator for a project's status?" has led him to become proficient in communication, personality types, team styles, systems thinking and human systems dynamics. His clients range from small startups to Fortune 50 involving manufacturing, pharmaceuticals, financial, engineering and telecommunications. Don's varied interests and client experience enable him to help clients introduce change and build adaptive capacity. He conducts workshops on accelerating change, personality type, and retrospectives. Don occasionally writes articles that can be found in STQE, Better Software and on StickyMinds. His blog can be found atwww.donaldegray.com. Don co-founded and continues to Host the AYE Conference.