After several flights with several airlines, I believe the only way to fly is Southwest!! Why? The Southwest culture is human.
More on this later but for now, here is the first Official Southwest Certificate of Appreciation: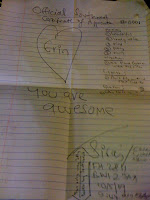 Also a poem:
Southwest Soulmate (Erin)
You touch
our souls
with your
song
and
You break
our hearts
with your
smile!
(to be continued)
Congrats Erin!!!