Are you exploring SAFe certification courses and wondering which one is right for you?
SAFe has quickly become one of the most accepted development and delivery frameworks for scaling agile in organizations. From an individual standpoint, as well as a team member, investing your time and effort in becoming SAFe certified will definitely pave the way for success.
But it can be confusing to choose a course that aligns perfectly with your role. Through this blog, I would like to answer a few of the questions that you may have - what is agility, where to start, which courses to choose, how to prepare for classes, are there any books or articles that you can read and how can you make the most of the training?
The blog is divided into 4 sections so that you can easily find answers to your questions.
Which SAFe certification should I choose?

How to prepare for a SAFe class?

How to prepare for the certification exam?

Your next step after getting certified

Career graph of a certified Agilist
Which SAFe certification is ideal for you?
Your first step is to understand what each of the courses offers so that you can make an informed choice. SAI offers 7 SAFe certifications which include framework-based courses - SA, SPC, and role-based courses, RTE, SSM, SASM, POPM and SP.
Framework-based certifications
SAFe Agilist Certification (SA) with the Leading SAFe course - This 2-day course is an excellent starting point if you are new to SAFe as it covers the principles and practices of the Scaled Agile Framework, what it means to lead a Lean-Agile transformation and how to adopt a Lean-Agile mindset. The Leading SAFe certification is also ideal if you are CSM or Agile certified, a leader in the organization, or preparing to be a part of the transformation team.
SAFe Program Consultant (SPC) Certification with the Implementing SAFe course - SPC is a 4-day course where you will learn to coach programs, launch Agile Release Trains, build a continuous delivery pipeline, adopt DevOps culture and empower a Lean Portfolio. Leading SAFe makes up the first two days of the course which will provide you with the basis of SAFe and the final two days focus on how to successfully implement SAFe in your enterprise.
Implementing SAFe certification will help you lead a digital transformation as a Lean-Agile leader at an enterprise level and also open up exciting career opportunities for you. If you are new to SAFe, I suggest you first enrol for the SAFe Agilist certification and then dive into SPC after a few months.
Role-based certifications
SAFe Scrum Master (SSM) Certification - During this 2-day course, you will understand what it means to be a Scrum Master in a SAFe environment. The course explores the role of a Scrum Master at an enterprise level and prepares you to plan and execute Program Increments (Releases). You will also learn to build high-performing Agile teams by becoming a Servant Leader and Coach. SAFe SSM certification is ideal for new and existing Scrum Masters who want to understand their role in a SAFe enterprise.
SAFe Advanced Scrum Master (SASM) Certification - SASM is an advanced certification that prepares existing Scrum Masters to take on a leadership role in an Agile team or enterprise in a SAFe environment. The 2-day course introduces Scrum Masters to scalable engineering, DevOps practices and the application of Kanban to facilitate the flow of value.
SAFe Product Owner/Product Manager (POPM) Certification - SAFe POPM is a 2-day certification for Product Managers, Business Owners, Product Owners and Business Analysts where you will understand how to relate your role to a Lean-Agile mindset. By becoming a certified SAFe POPM, you will be able to launch ARTs, plan PIs and deliver continuous value for your organization.
SAFe Release Train Engineer (RTE) Certification - By becoming a certified RTE, you will be able to guide, coordinate, organize and align all the teams with a Agile Release Train, participate in pre and post-PI meetings and drawn up PI objectives. This 3-day course is ideal for new and existing Program Managers, Release Train Engineers, Agile Coaches, Scrum Masters, PMOs and SPCs.
SAFe Practitioner (SP) Certification with the SAFe for Teams course - If you are a part of an ART in a SAFe enterprise, the SP certification will provide you with the skills to perform your role successfully. During this 2-day course, you will gain an in-depth understanding of ARTs, learn how to write user stories and plan and execute iterations.
For detailed information on each of the courses, you can visit the Scaled Agile or Temenos+Agility websites.

Founding concepts of the Scaled Agile Framework
How to prepare for a SAFe certification class?
It is always a good idea to read about the course beforehand to familiarise yourself with common terminologies and gain an understanding of the Scaled Agile Framework.
I have compiled a list of articles that I found to be useful when I attended my first SAFe class.
Basics of SAFe
Basics of Agile
Basics of Scrum
Basics of Kanban
Basics of XP
Basics of Lean
Basic of DevOps
Basics of Lean Startup
Servant Leadership
Systems Thinking
How to prepare for the SAFe certification exam?
SAI places great importance on the ability of each student to successfully fulfil their role in a SAFe environment and has designed the certification exam accordingly. The exam will test you on your theoretical and practical knowledge, how well you have understood the concepts during training and your past experience. It is essential that you prepare for the SAFe certification exam rigorously and apply Lean-Agile principles to real-life scenarios to gain a deeper understanding.
Remember to refer to the big picture for all topics and study the Scaled Agile Framework in detail. You can visit the Scaled Agile website for more details about the exam.
After your training, you will have access to the SAFe community platform where you will find relevant study material, practice tests and any other useful information that you might need to help clear the test.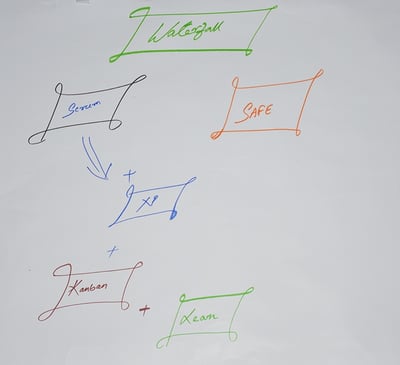 Create growth opportunities for yourself and your enterprise
Your next step after getting certified
As a certified SAFe Agilist, you have embarked on a life-long journey of learning and adapting.
The most important aspect of any certification is to implement the new knowledge in a way that it works for you. To help you understand the deep impact that the Scaled Agile Framework has on enterprises, and how organizations have adopted the Lean-Agile mindset, you can explore the following books.
User Stories Applied: For Agile Software Development, Mike Cohn

Scrum: The Art of Doing Twice the Work in Half the Time, Jeff Sutherland

The Lean Machine, Dantar Oosterwald

The Goal, Eliyahu Goldratt

Switch, Chip Heath and Dan Heath

Coaching Agile Teams, Lyssa Adkins

The Five Dysfunctions of a Team, Patrick Lencioni

Meeting by Death, Patrick Lencioni

Agile Software Requirements, Dean Leffingwell

Agile Retrospectives, Esther Derby and Diana Larsen

Principles of Product Development Flow, Don Reinertsen

Lean Product and Process Development, Allen Ward and Durward Sobeck II

The Decision to Trust, Robert F Hurley
Additional books you can read
The Machine that Changed the World, Lean Thinking - James Womac

Toyota Kata - Mike Rother

The Phoenix Project, DevOps Handbook - Gene Kim

Lean Startup, The Startup Way - Eric Ries

Mind Open Wide and Where Good Ideas Come From - Steven Johnson

David Rock- Coaching With the Brain in Mind, Your Brain at Work, Quiet Leadership

Dave Gray -The Connected Company, Game Storming, Liminal thinking

Peter Senge - Fifth Sense

Frederic Laloux - Reinventing Organizations

Dave Logan - Tribal Leadership

Brian Robertson - Holacracy

Clayton Christensen- Innovator's Dilemma

Geoffery Moore - Crossing the Chasm

Jens Maier - Ambidextrous Organization

Jacob Morgan - Future of Work, Employee Experience Advantage

Carol Dweck – Mindset
Videos that are worth a watch
A very important point to remember while attending a SAFe certification course is that you need to actively participate during the training, ask questions and apply the knowledge to your enterprise/role. This will ensure that you draw great value from the certification and excel in a SAFe environment.
You can visit Temenos+Agility for details on upcoming SAFe courses near you. Temenos+Agility is a SPC Gold Partner of SAFe, offering SAFe certification courses across the globe.
I would like to thank Vandana Sinha for sharing her expert opinion and reviewing the blog. This blog is an adaptation of How to Plan Well for SAFe course by Bajrang Bahadur.